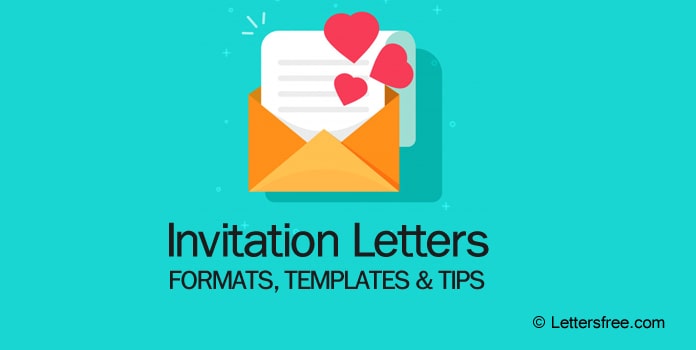 Whenever you are having a celebration, you need to send across invitation letters. There are all kinds of reasons to celebrate and by sending across these invitation letters, you invite the person to be a part of them. Broadly, there are two kinds of invitation letters:
Personal invitation letters
Official invitation letters
You can find online invitation letter sample for event, party, meeting, visa, function, etc. You can find informal as well as formal invitation letter formats that can be used in a personalized manner. In this post, we have come up with invitation letter writing tips along with invitation letter templates to help you create one.
Here are some important points to keep in mind while writing an invitation letter:
Use the right tone. It is important to have the formal tone when you are inviting someone, irrespective of the kind of event it is.
In the first paragraph, include the purpose for which the event is being conducted. This paragraph must also include the date, time and venue of the event.
The second paragraph should include the importance of attending the event. You can include additional details about the event in this part.
Always mention that you are looking forward for the presence of the recipient.
You can also ask for the confirmation of attendance.
Don't forget to provide your contact details.
Sample Invitation Letter – Formal Invitation Letter Format
From:
Sam Roots
54, Riverside Apartments
London
Date: March 23, 2021
To,
Amanda Brown
85, Hilltop Lane
London
Dear Amanda,
I would like to invite you for my graduation ceremony. After all the hard work and dedication, I will soon be graduating from London College and because this is a very special moment for me, I would like you to be there for me to make this occasion all the more special.
The graduation ceremony will be taking place at the London College Auditorium on March 1st, 2021 at 7 p.m. and it will be followed by a formal dinner in the same premises. The dress code for the event is black and white formal wear.
If you need any more information about the event, you can always contact me at 4848484848. I will be waiting for your confirmation. Your presence at this ceremony really means a lot to me and I am looking forward to meet you on my special day. Please do come to make this evening all the more memorable for me.
Hope to see you on the big day.
Regards,
Sam
More Invitation Letters Sample, Formats, Examples and Templates….
Invitation Letter for Opening Ceremony of Hospital
Invitation Letter for Inauguration of New Office Ceremony
Dinner Invitation Letter for New Project Inauguration
New Office Inauguration Mail to Employees
Dinner Invitation Letter
Marriage Invitation Letter to Friends
Job Invitation Letter
Party Invitation Letter
Invitation Letter for Seminar
Wedding Invitation Letter
Event Invitation Letter
Church Invitation Letter
Business Invitation Letter
Birthday Invitation Letter
Invitation Letter for Visa
Grand Opening Invitation Letter
Top Search: