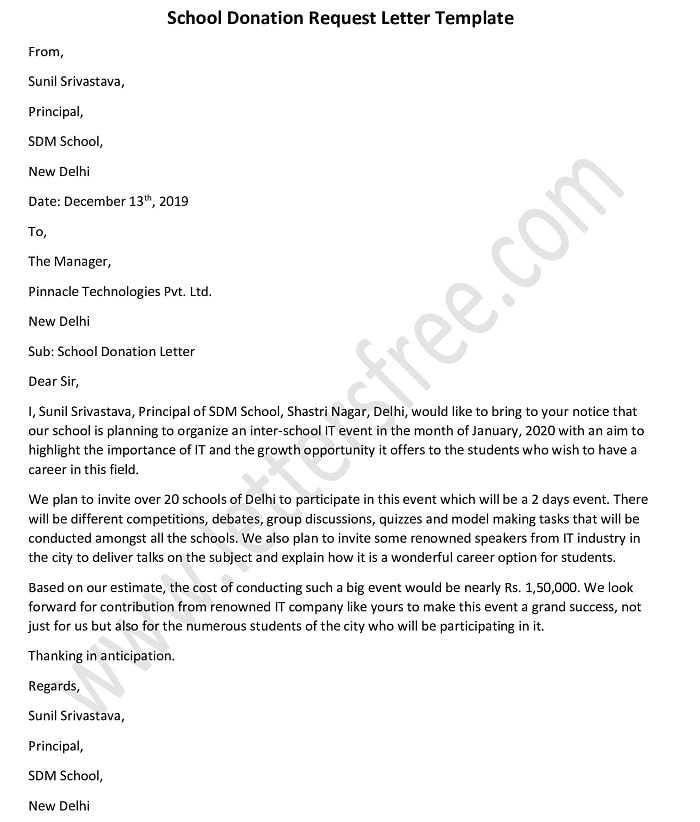 School Donation Letter is written with an intension to request donation for any kind of activity or work that the school has undertaken. There can be a donation request letter for school supplies fundraising event, school trip, sports, uniforms, etc. or it can be for some renovation or development taking place in the premises. Writing a letter for giving donation to school has to be very polite and must also state the purpose of seeking donation. Donation Letter Template must also contain complete detail on how the funds will be used.
In this post, we bring a Donation Request Letter for School sample for you to refer along with the tips for writing a perfect donation letter format. Use these guidelines and sample format for school donation letter to draft your own letter.
Read also: How to Write a Donation Letter
Clearly state the purpose of writing the letter.
Talk about the developmental works your school is doing and progress of your school.
State the purpose of organizing the event.
Mention how the students will get benefitted with it.
Include the participants in the event.
Talk about involvement of media.
End your letter with a thank you note.
Check for grammatical and spelling errors.
School Donation Request Letter Template
From,
Sunil Srivastava,
Principal,
SDM School,
New Delhi
Date: December 13th, 2019
To,
The Manager,
Pinnacle Technologies Pvt. Ltd.
New Delhi
Sub: School Donation Letter
Dear Sir,
I, Sunil Srivastava, Principal of SDM School, Shastri Nagar, Delhi, would like to bring to your notice that our school is planning to organize an inter-school IT event in the month of January, 2020 with an aim to highlight the importance of IT and the growth opportunity it offers to the students who wish to have a career in this field.
We plan to invite over 20 schools of Delhi to participate in this event which will be a 2 days event. There will be different competitions, debates, group discussions, quizzes and model making tasks that will be conducted amongst all the schools. We also plan to invite some renowned speakers from IT industry in the city to deliver talks on the subject and explain how it is a wonderful career option for students.
Based on our estimate, the cost of conducting such a big event would be nearly Rs. 1,50,000. We look forward for contribution from renowned IT company like yours to make this event a grand success, not just for us but also for the numerous students of the city who will be participating in it.
Thanking in anticipation.
Regards,
Sunil Srivastava,
Principal,
SDM School,
New Delhi
Given Below are a few donation letter samples for a clearer Idea.
Donation Request Letter for Solar Energy System
Sample Memo Asking for Contribution
Fundraising Letter for Medical Expenses
Donation Request Letter for Cancer Patients
Donation Letter for Flood Victims
Donation Letter for a Sick Person
School Donation Request Letter Template
Top Search: