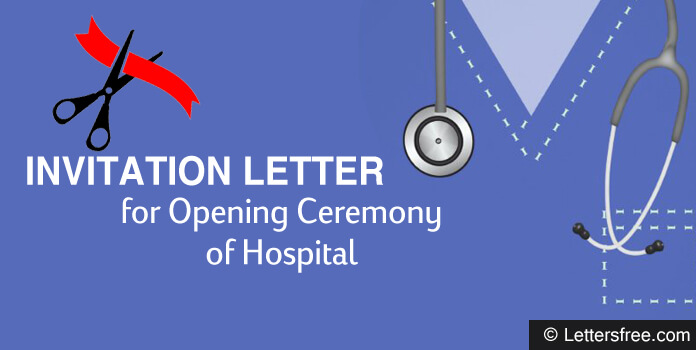 The letter of invitation for businessperson is a way to formally invite people at large to attend the grand opening of their new venture. A letter to invite over a call is any time a better idea. This post contains invitation letter for opening ceremony of hospital, opening ceremony invitation letter format and letter of invitation to grand opening ceremony.
This post also may help by providing sample invitation letter for opening ceremony and formal invitation letter template that you can use to draft your letter.
Sample Invitation letter Format for opening ceremony of Hospital
July 21, 2022
To
Mr. and Mrs. Weimer
Weimer Group of Companies
+1 (123) 456789
Subject: Invitation to the grand opening ceremony
Dear Guests,
We would like to cordially invite you to the grand opening of our new hospital 'Fortis' at Street no. 65, California, United States.
Please join us in celebrating the inaugural ceremony on Thursday, 30th day of July, 2022 0900 hours onwards at the hospital.
Lunch and refreshments will be served.
RSVP: By July 17, 2022
RSVP to Mr. Jack Meir at Telephone: +1 (123) 56789 or Email: [email protected].
You are requested to kindly make it convenient to attend the opening ceremony.
We look forward to seeing you and having a great time.
Thanking you.
Yours sincerely,
Mr. Jonathan Fortis
(Signature)
Founder and Managing Director
Fortis Hospital
More Invitation Letters Sample, Formats, Examples and Templates….
Invitation Letter for Inauguration of New Office Opening Ceremony
Dinner Invitation Letter for New Project Inauguration
New Office Inauguration Mail to Employees
Marriage Invitation Letter to Friends
Job Invitation Letter
Party Invitation Letter
Invitation Letter for Seminar
Wedding Invitation Letter
Event Invitation Letter
Church Invitation Letter
Business Invitation Letter
Birthday Invitation Letter