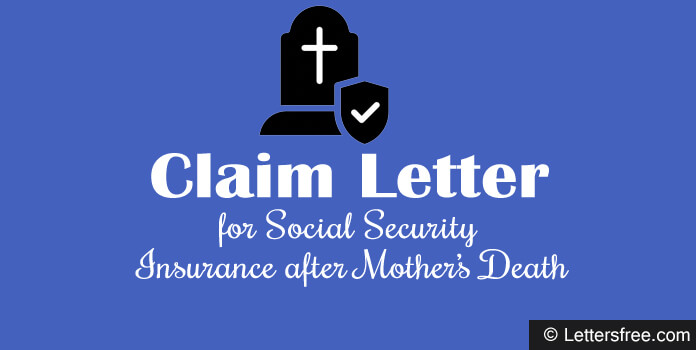 Human life in uncertain and there are phases that come all of a sudden that we are not prepared for. Financial security in such times is very important and it comes from the life insurance money. A claim letter can be written to the insurance company seeking the social security insurance money.
In this post are some claim letter examples, Insurance Claim Letter Format and templates that you can use as reference to draft a claim letter.
Claim Letter Format for Social Security Insurance after Mother's Death
To
The Earth Insurance Firm
California, United States of America
Subject: Claim for social security insurance after mother's death
Respected Sir/Madam
I hope this letter finds you well and in good health. Let me present myself, I am Nate Dexter, the son of Mrs. Emily Dexter. She died last month after fighting a long four-year battle against cancer. The past month, I was busy with her rituals while grieving her death, trying to heal and pick myself back up. I am her only son. I am a student of Computer Science at the community college. It was just the two of us in the family. My father left us when I was an infant.
She wanted the best of everything for me, especially my education. She had dreams for me that I want to work hard towards and fulfil. I have the determination and purpose required to do so but nothing works out when you do not have sufficient finances. I recently learnt about the social security insurance plan that my mother had which was $10000. I am dire need of this amount as I am due to pay my college fees and facing problems to manage my daily expenses. I have enclosed all the necessary documents along with this letter.
Thanking you in anticipation.
Regards,
Nate Dexter
July 20, 2022
Given Below are a few Claim letter samples for a clearer Idea.
Death Claim Letter
Direct Claim Letter
Claim Letter to a Business
Claim Letter to a Bank
Claim Appeal Letter
Claim Adjustment Letter
Claim Letter for Defective Product
Claim Letter for Lost Goods
Claim Letter to Courier Company
Reimbursement Claim Letter
Authorization Letter to Claim