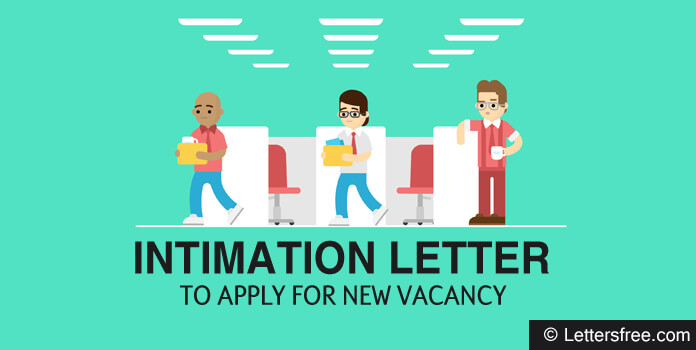 An intimation letter to apply for new vacancy is written to the current employer to inform them that the employee wants to apply for a vacancy in another job and that there are no objections or misunderstandings in the future. The post contains intimation letter for applying in another job, intimation letter for to employee examples.
It also has intimation letter format and intimation template that you may use as reference to draft your own letter.
Sample of Intimation Letter regarding Applying for New Vacancy
The Administration
Govt. IT Sector
Subject: Intimation letter to apply for new vacancy
Respected Sir,
With all due respect, please be informed that this letter serves as an official intimation that I am going to apply against the vacancy in Defense Sector Case Number: 123456. I find myself and my experience suitable for the job. I will apply through proper government channel.
I request you to kindly issue my No Objection Certificate as I am required to attach it with my application. This intimation letter is to inform you about my step while staying the employee of IT sector so that there are no problems in the future. If I am not selected, I will continue to serve here.
I hope you understand and have no objection upon this. Please provide with me with the required documents as soon as possible. I will be grateful to you in this regard.
Thank you for your time and attention.
Sincerely,
Keith Ray
Senior Manager
IT Sector
+1 (123) 456789
Given Below are a few Job Letter sample for a clearer Idea :-
Recommendation Letter for a Teenager for Job
Letter of Intent for a Job Conveys
How to Write an Application Letter for Job Vacancy
Application Letter for any Position without Experience
Private Company Job Appointment Letter Format
Job Appointment Cancellation Letter from Company
Acceptance Letter for Job Offer via Email
Job Offer Letter for HR Executive