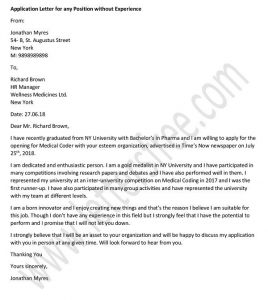 If you are fresher and you wish to start working then finding a job may be a challenge for you. Experience is surely very important but what is also important is to have knowledge about the subject and having the skill to put it across. By learning to frame a perfect but simple job application letter for encoder position, teaching, bookkeeper, receptionist position without experience you can create your first impression with full impact.
In this post, we talk have come up with a sample application letter for job vacancy. This example sample cover letter with no experience can be customized as per the requirements of the profile and your resume.
Sample Application Letter for Any Vacant Position without Experience
From:
Jonathan Myres
54- B, St. Augustus Street
New York
M: 9898989898
To,
Richard Brown
HR Manager
Wellness Medicines Ltd.
New York
Date: 29.06.18
Dear Mr. Richard Brown,
I have recently graduated from NY University with Bachelor's in Pharma and I am willing to apply for the opening for Medical Coder with your esteem organization, advertised in Time's Now newspaper on July 25th, 2018.
I am dedicated and enthusiastic person. I am a gold medalist in NY University and I have participated in many competitions involving research papers and debates and I have also performed well in them. I represented my university at an inter-university competition on Medical Coding in 2017 and I was the first runner-up. I have also participated in many group activities and have represented the university with my team at different levels.
I am a born innovator and I enjoy creating new things and that's the reason I believe I am suitable for this job. Though I don't have any experience in this field but I strongly feel that I have the potential to perform and I promise that I will not let you down.
I strongly believe that I will be an asset to your organization and will be happy to discuss my application with you in person at any given time. Will look forward to hear from you.
Thanking You
Yours sincerely,
Jonathan Myres
Given Below are a Few Application Letter Samples for a Clearer Ideas:-
Intimation Letter to Apply for New Vacancy
Application Letter for Teacher Job for Fresher
If you wish to apply for the job of teaching and you are a fresher then you must be able to frame it with perfection in order to put forward your strengths strongly.
Sample Application Letter for Fresh Graduate
If you have just graduated from college and you are a complete fresher with no experience then finding a job can be a tough task for you.
Application Letter for Club Membership
Usually memberships for clubs and other such social institutions are on invitation or recommendation.
Grant Application Letter Sample
Grant Application Letter is addressed to such potential organizations, governments, foundations.
Unsolicited Application Letter
Writing a speculative application directly to an organization instead of waiting for an advertisement.
Leave Application Letter Format
If you are planning to take leave for some days due to some personal or professional reason.
Application Letter for Promotion
Every organization holds this policy where the hardworking employees are promoted.
Loan Application Letter Sample
All banks involve formal processes for loan or line of credit services
Top Search: