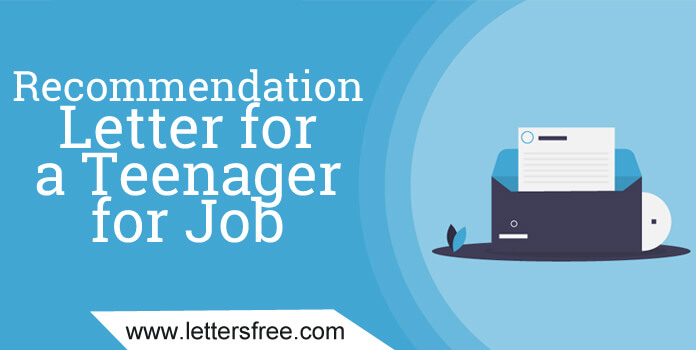 The Letter of Recommendation is a way of recommending someone for a particular job. The Letter Of Recommendation For A Teenager is not just limited to a job but it also works well in case of internship or management training. The Recommendation Letter for a Teenager for Job is a formal way of recommending a candidate to a company by highlighting the skills and experience of the candidate.
In this post, we bring to you a sample of Recommendation Letter for a Teenager. You can use this Recommendation Letter format to create a personalized letter.
Letter Format of Recommendation for a Teenager for Job
From:
Arthur Gibbs
Associate Professor
New York University
New York
Date: June 15, 2022
To,
Mr. Richard Smith
HR Manager
Zenith Technologies
New York
Dear Mr. Richard,
I am really grateful that you asked me for a recommendation for the vacancy in your company for the profile of Marketing Intern. I am really happy to write a letter of recommendation for Mr. John Ray, a young and talented student of mine who excels in the field of marketing. He has been my management student from last three years. He not only holds an impressive academic record but he also has immense potential to perform which he has proven from time to time during his internship and otherwise.
I would like to recommend him for this post. He is pursuing his management with Marketing as his major. I strongly believe that he is going to clear all the stages of the interview in your company and will handle all the obstacles very skillfully. From last two years, he has been an excellent student. He has worked on many projects and has participated in many competitions on national level where he has shown impressive performance.
He is a dedicated, committed and hardworking individual. He is born with impeccable communication skills which make him a very smart negotiator. His strength lies in this leadership qualities but he is also a wonderful team worker.
I would strongly recommend you to hire him for the vacancy and you will be really happy to have onboard. He will surely prove to be an unmatched asset for your company. For any more details, please get in touch with me.
Regards,
Arthur Gibbs
Given Below are a few Recommendation Letter sample for a clearer Idea :-
Intimation Letter Format to Apply for New Vacancy
Letter of Intent for a Job Conveys
Recommendation Letter for a Friend Applying for a Training Program
Referral Letter for Private Hiring in Army/ Military
Thank you for Referring Email to Employees
Professional Recommendation Letter
Recommendation Letter for Colleague
Recommendation Letter for Higher Studies
Scholarship Recommendation Letter
Job Recommendation Letter
Graduate School Recommendation Letter
Recommendation Letter for Student