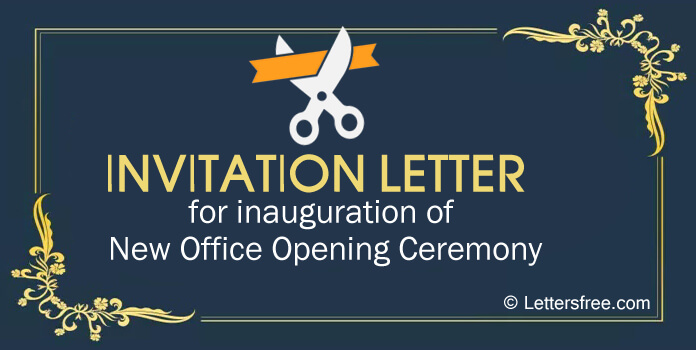 Setting up a new office is not easy and when it comes to opening ceremony of your new office, you need to send formal invitation letter for inauguration to all your guests. The invitation letter for inauguration ceremony is a simple invitation letter which includes the details about the opening ceremony like the date, time and venue.
In this post, we have come up with grand opening invitation letter template. You can use this Sample Invitation Letter for inauguration of New Office. This template can also be used as template for invitation letter for inauguration of new shop.
Sample Invitation Letter for Inauguration of New Office or Shop Opening Ceremony
To,
Mr. Anthony Smith
Manager
Allen's Hardware Company
54, Jacob Road
New York
Sub: Opening of new office by Zenith Technologies
Dear Mr. Anthony,
After achieving the desired growth in New York, the company has decided to come up with its city office. We are sending this invitation to welcome you for the opening of new office of Zenith Technologies in New York at St. Jacob Road.
We would be looking forward for your presence at the opening ceremony of our new office which is scheduled on March 15th, 2022 at 10 am to 12 pm. at New Age Complex, St. Jacob Road, New York
We request you to kindly send a RSVP by March 10th, 2022 to Ms. Ruby Johnson at 98989898.
Sincerely,
Mathew Hobbs
Manager
Zenith Technologies
New York
More Invitation Letters Sample, Formats, Examples and Templates….
Invitation Letter for Opening Ceremony of Hospital
Dinner Invitation Letter for New Project Inauguration
New Office Inauguration Mail to Employees
Marriage Invitation Letter to Friends
Job Invitation Letter
Party Invitation Letter
Invitation Letter for Seminar
Wedding Invitation Letter
Event Invitation Letter
Church Invitation Letter
Business Invitation Letter
Birthday Invitation Letter
Top Search: