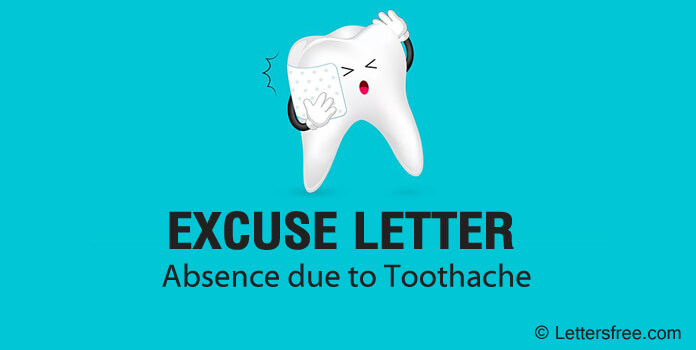 There are many reasons because of which one has to take leave from work but whatever be the case an excuse letter must be submitted. If you are suffering from toothache then you must send across excuse letter for work due to toothache. The excuse letter for tooth pain is a short and precise letter which includes reasoning for missing work. The excuse letter for work due to tooth extraction or excuse letter for tooth pain makes a formal letter to submit at work.
This post includes toothache excuse letter for work. You can use this sample sick leave for dental treatment to send to your office.
Excuse Letter Format for Tooth Pain
From:
Simon Gibbs
54, Richmond Town
New York
Date: March 2nd, 2022
To,
Mr. Anthony Black
Marketing Manager
Zenith Technologies
New York
Sub: Excuse letter for being absent because of toothache.
Respected Sir,
The purpose of writing this letter is to inform you that I will not be able to attend office from March 3rd, 2022 to March 4th, 2022.
The reason for this is because I have been suffering from severe toothache from last couple of weeks. Despite trying so hard, I was not able to get an urgent appointment with my dentist and because of that the pain has worsened. After the consultation with the dentist, a small dental surgery has been performed and I have been advised to take a break from work as I will be under the influence of the sedatives for faster recovery.
I understand that we have an important meeting scheduled up during these dates but due to my condition, I will not be able to give the presentation. I have had a word with John Smith, my colleague, and he has offered to help me with the presentation. All the details and highlights have been explained to him and he will be able to deliver the same. Mr. John has been working on the project with me and therefore, has complete understanding of the project along with its progress. For any further information, I will be available on email as well as phone whenever needed.
For your reference, I have attached with the letter the doctor's prescription. Moreover, I will make sure that I am able to resume the office after two days. I affirm that all the presentation requirements have been completed from my end and have been handed over to Mr. John.
Thank you for your consideration.
Sincerely,
Simon Gibbs
More Excuse Letter Sample and Example