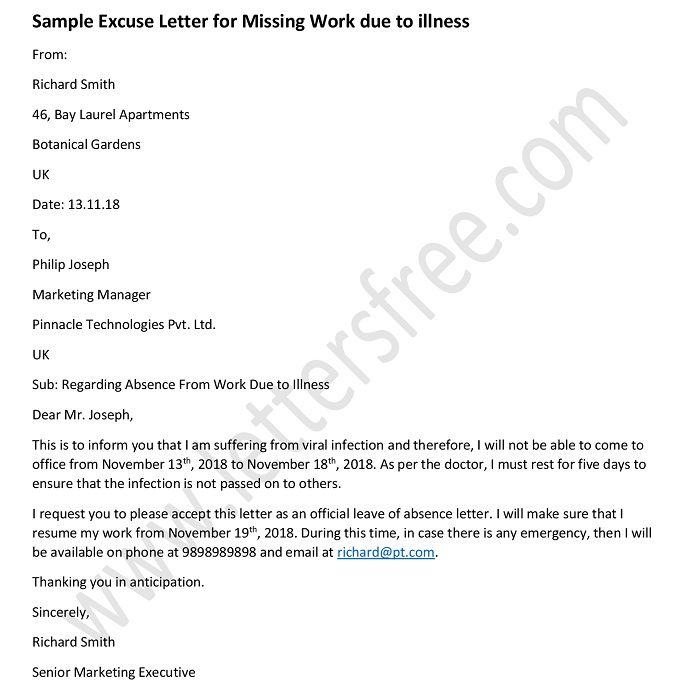 If you have been unable to make it to work then you must inform the same to your boss or manager in writing. Leave for absence letter is quite a simple letter which mentions about the reason for leave and the duration of leave. There are different kinds of excuse letters for missing work.
Given below is a missing work excuse letter example. Use this excuse letter for work due to sickness to create a personalized letter. This leave of absence due to illness letter can be easily customized as per your need.
Sample Format for Leave of Absence Letter
From:
Richard Smith
46, Bay Laurel Apartments
Botanical Gardens
UK
Date: 01.11.18
To,
Philip Joseph
Marketing Manager
Pinnacle Technologies Pvt. Ltd.
UK
Sub: Regarding Absence From Work Due to Illness
Dear Mr. Joseph,
This is to inform you that I am suffering from viral infection and therefore, I will not be able to come to office from November 1st, 2018 to November 11th, 2018. As per the doctor, I must rest for five days to ensure that the infection is not passed on to others.
I request you to please accept this letter as an official leave of absence letter. I will make sure that I resume my work from November 12th, 2018. During this time, in case there is any emergency, then I will be available on phone at 9898989898 and email at [email protected].
Thanking you in anticipation.
Sincerely,
Richard Smith
Senior Marketing Executive
Given Below are a few Excuse Letter samples for a clearer Idea.
Excuse Letter of Absence due to Toothache
Top Search: