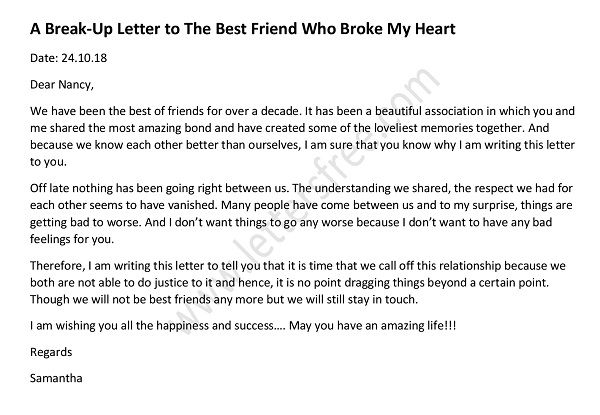 Breakups always hurt and when it is a breakup with a best friend, it hurts the most. But sometimes certain things happen then to end the relationship is the right and the best thing to do. Writing a break-up letter to best friend is not easy but it is the important thing to end things in a mature way. Write an open letter to the friend who hurt me using the ending a friendship letter sample. It can be a funny break up letter and it can also be a serious break up letter to cheater who has hurt you. In such situations, your brain tends to stop working and that's when you need a sample breakup letter to help you put your feelings in right words.
To help you give some direction in this emotional situation, we bring to you a warm goodbye letter to best friend. Use this friendship break up letter sample to write your own and end this relationship in a good way.
Emotional Break-up Letter to Best Friend
Date: 24.10.18
Dear Nancy,
We have been the best of friends for over a decade. It has been a beautiful association in which you and me shared the most amazing bond and have created some of the loveliest memories together. And because we know each other better than ourselves, I am sure that you know why I am writing this letter to you.
Off late nothing has been going right between us. The understanding we shared, the respect we had for each other seems to have vanished. Many people have come between us and to my surprise, things are getting bad to worse. And I don't want things to go any worse because I don't want to have any bad feelings for you.
Therefore, I am writing this letter to tell you that it is time that we call off this relationship because we both are not able to do justice to it and hence, it is no point dragging things beyond a certain point. Though we will not be best friends any more but we will still stay in touch.
I am wishing you all the happiness and success…. May you have an amazing life!!!
Regards
Samantha
Given Below are a few sample Break up letter for a clearer Idea.
Dramatic Breakup Letter Sample
Dramatic breakup letter are hyper emotional and dramatic in nature and some time full of rude and harsh words. When someone feels so disappointed and hurt, he/she get forced to write such letter.
Goodbye Break Up Letter Format
Good bye break up letter involves a lot of emotion and affectionate feeling. Though this letter carries the news of separation, it is able to deal with the situation in a much calm and tender manner.
Break up Letter to Husband
Writing a breakup letter to your husband is the most painful task. After years of married life it is quite impossible to take the decision of separation.
Break Up Letter to Girlfriend
Writing a breakup letter is the most convenient way to inform your girlfriend that you are no more interested in her and want to wrap up your relationship.
Break Up Letter to Boyfriend
Break up letters to a boyfriend are written by those girls who no longer want to continue their relationship with their guy.
Top Search: