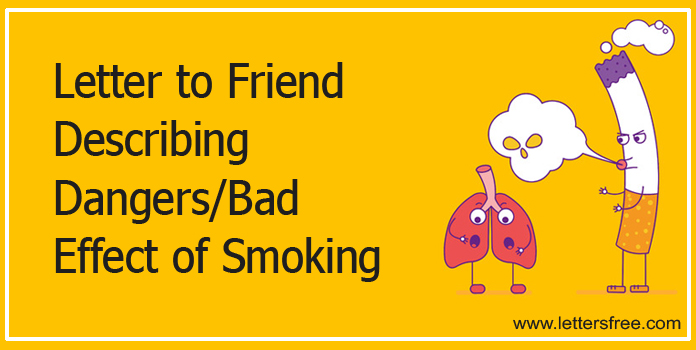 We all know how harmful smoking is but sometimes despite knowing the bad effects of smoking, we end up picking up this bad habit. If you have a friend who has started smoking, it is a sweet gesture to write him or her a letter describing the bad effects of smoking. With the letters stating dangers of smoking, you can discourage your friend to smoke.
If you are thinking how to write one such letter then we have come up with a sample letter to friend about bad effect of smoking which you can use for writing a letter to your friend describing the dangers of smoking in a concise yet convincing manner.
Sample Letter to Your Friend Describing the Dangers of Smoking
From:
Andrew Smith
32 Ellora Apartments
New York
Date: November 8, 2021
To,
Mr. Anthony Black
87, Richmond Apartments
California
Dear Anthony,
I hope this letter of mine finds you in the best of your spirits and health. It has been long since we met and I had been thinking from quite some time to write you a letter but I was keeping busy with my university exams. It was just yesterday that I met David and got to know that you are facing some challenges with your studies. He also told me that you have started smoking after joining the university. So, I thought of wasting no more time and writing a letter to you discussing the bad effects of smoking.
There was a time when we were told by our teachers in school again and again that how a bad habit and a bad company can completely change our lives and that is what smoking does to us. Not only does it hampers our lungs beyond damage, it also brings along a lot of negativity. Smoking causes extreme loss of appetite which results into sever weight loss. It is also the reason for loss of stamina and fitness levels. Because of smoking, we end up making friends with only those who smoke. We don't feel confident about ourselves until and unless we have taken a puff. Moreover, we find ourselves extremely week until we get to smoke.
You have always been a bright and wonderful student throughout the school and I know that you have the potential to repeat the history in your university as well. I strongly feel that it is because of smoking that you are not able to give your best to your studies and that is what is holding you back from shining bright. Compared to the times you had left for California and last time you had visited New York, there has been a drastic change in you and I feel it is because of smoking. You are no longer the confident person you used to be. You have lost weight and you have started looking pretty weak.
I am writing this letter to remind you that life has given you such an amazing opportunity to take your life to another level and you must not let it go. Give up on smoking and focus on your career and things are going to change for you big time. Do not let your smoking affect your health and wellness.
I am very hopeful that you will understand the point I am trying to make and give up on smoking because it brings along a big baggage of bad effects.
Looking forward to meet you soon and will be waiting for your letter.
Yours,
Andrew
Other Related Format, Templates and Examples
Sample Format of Circular for no Smoking in Office
Email to your Friend Describing the Bad Effects of Smoking
Letter to your Brother About the Bad Effects of Smoking
Email to Your Brother Telling Him to Give Up the Smoking