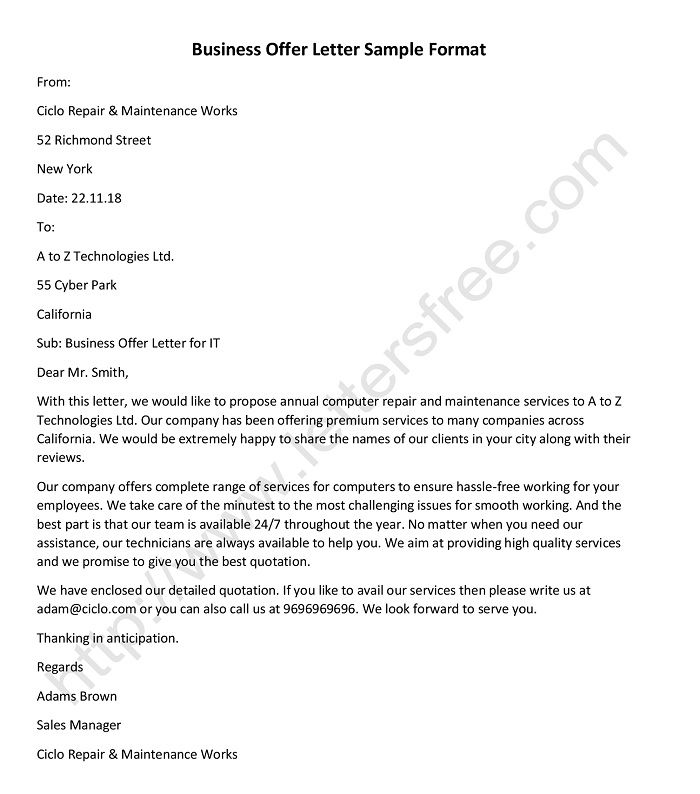 When you are in business, different kinds of letters are required to be written Business Introduction Letter, Business Thank You Letter, Business Offer Letter etc. There are also business proposal letter for partnership or product business proposal letter. This is because it is extremely important for a business to be able to explain what it is all about. And business offer letters are written with an intention to give details about business to get a nod for a project.
In this post we have come up with tips on How to Write a Business Letter along with a product business proposal letter sample.
How to Write an Effective Business Proposal/Offer Letter
If you are confused about how to write a business proposal letter, then here are some effective tips that can guide you right:
Starting the Letter
Always start your letter with a greeting. Include proper titles along with the name followed by a colon in the end.
Begin with Background Details
The first paragraph is about creating a logical background with details on which you will further draft your letter.
State the Purpose
Once you have built the background, now clearly state the purpose of writing the letter. Do mention your next course of action.
End it on a Positive Note
When you end your letter, always thank the reader. End it with positivity for brighter chances for the reader to get back to you.
Share Your Contact Details
Make sure that you have shared your contact details so that the reader can get in touch with you.
Though we have shared sample business proposal letter for services, business proposal cover letter sample below but these points will always be helpful for you to write a personalized letter.
Sample Business Proposal Letter Format
From:
Ciclo Repair & Maintenance Works
52 Richmond Street
New York
Date: 22.11.18
To:
A to Z Technologies Ltd.
55 Cyber Park
California
Sub: Business Offer Letter for IT
Dear Mr. Smith,
With this letter, we would like to propose annual computer repair and maintenance services to A to Z Technologies Ltd. Our company has been offering premium services to many companies across California. We would be extremely happy to share the names of our clients in your city along with their reviews.
Our company offers complete range of services for computers to ensure hassle-free working for your employees. We take care of the minutest to the most challenging issues for smooth working. And the best part is that our team is available 24/7 throughout the year. No matter when you need our assistance, our technicians are always available to help you. We aim at providing high quality services and we promise to give you the best quotation.
We have enclosed our detailed quotation. If you like to avail our services then please write us at [email protected] or you can also call us at 9696969696. We look forward to serve you.
Thanking in anticipation.
Regards
Adams Brown
Sales Manager
Ciclo Repair & Maintenance Works
Top Search: