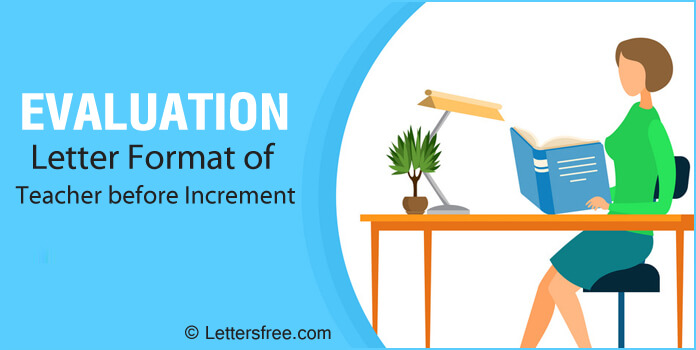 Evaluation is an important step when it comes to giving a hike to an employee or before permanent employment of an intern. Evaluation Letter of Teacher before Increment is one such letter that is written in order to evaluate. Just like the application for salary increment, the evaluation letter example for school teacher is a pretty simple and sorted letter that includes all the details about salary increment. This kind of evaluation letter can be written in response to application format for salary increment by school teacher.
This post includes evaluation letter format of teacher before increment. You can use this evaluation letter template to create a personalized letter.
Evaluation Letter Format of Teacher before Salary Increment
From,
Susan Brown
Head of Department
Blooming Education System
New York
Date: February 25th, 2022
To,
Tom Smith
54 Richmond Town
New York
Sub: Evaluation of Teacher Before Increment
Dear Mr. Tom,
I am writing this letter to inform you that as the period of six month probation of your employment is going to end the next month, the school management feels that you will be a suitable candidate for the profile of Mathematics Teacher for junior classes. As per the policy of the school, if a candidate exhibits professional and good conduct and is able to teach and manage the class the right way, he or she stands chances of permanent employment.
Therefore, I am writing this letter to bring to your notice that during every academic year, we evaluate all of our teachers who have been recently recruited. The process of evaluation is important as it helps us understand and measure the performance of our new recruits in a better way so that the most suitable decision can be taken in this regard. Moreover, it gives us an opportunity to determine the increment ratio in the present salary. The evaluation will take place soon and here the points on which your performance will be evaluated by the evaluation team:
Class management
Quality of checking copies
Disciplining class
Creating activity based learning
Planner writing efficacy
Student teacher association
Teacher –teacher association
Teacher-parent association
Participation in extra curricular
The results of the evaluation will be shared with your shortly. We wish you the best of luck and we hope that the results are positive.
Sincerely,
Susan Brown
Head of Department
Blooming Education System
New York
More Evaluation Letter Sample and Example
Sample Letter Requesting Evaluation for Special Children
Appraisal Letter Format for Salary Increment