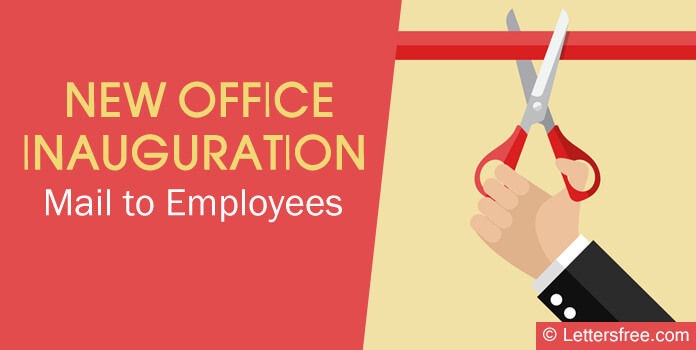 Employees are like a family and when inaugurating a new office, just like inviting any other guest, a company must also send a new office inauguration mail to employees. The new office opening invitation mail format is a simple format which is required to include all the important details concerning the inauguration ceremony of the new office.
In order to help you write a formal new office opening ceremony mail, we have come up with an invitation letter format for inauguration ceremony so that you can invite your employees in a formal manner.
Sample Format for New Office Inauguration Mail To Employees
Dear Employees,
We are very excited to inform you all that offer the grand success of Futuristic Hardware Ltd. in New York and rising demands of our products, the company has decided to come up with its another office in the city at Madison Avenue, New York.
We are writing this email to formally invite all our employees to be a part of this inauguration ceremony of our new office on January 20th, 2022 at 10 am. We would be looking forward for your presence as without you all the celebrations of this new milestone for the company are incomplete.
You are requested to please confirm your presence to Ms. Linda Gibson at 9898989898.
Regards,
Jacob Mathew
Manager
Futuristic Hardware Ltd.
New York
More Invitation Letters Sample, Formats, Examples and Templates….
Invitation Letter for Opening Ceremony of Hospital
Dinner Invitation Letter for New Project Inauguration
Grand Opening Invitation Letter
Dinner Invitation Letter
Marriage Invitation Letter to Friends
Job Invitation Letter
Party Invitation Letter
Invitation Letter for Seminar
Wedding Invitation Letter
Event Invitation Letter
Church Invitation Letter
Business Invitation Letter
Birthday Invitation Letter
Top Search: