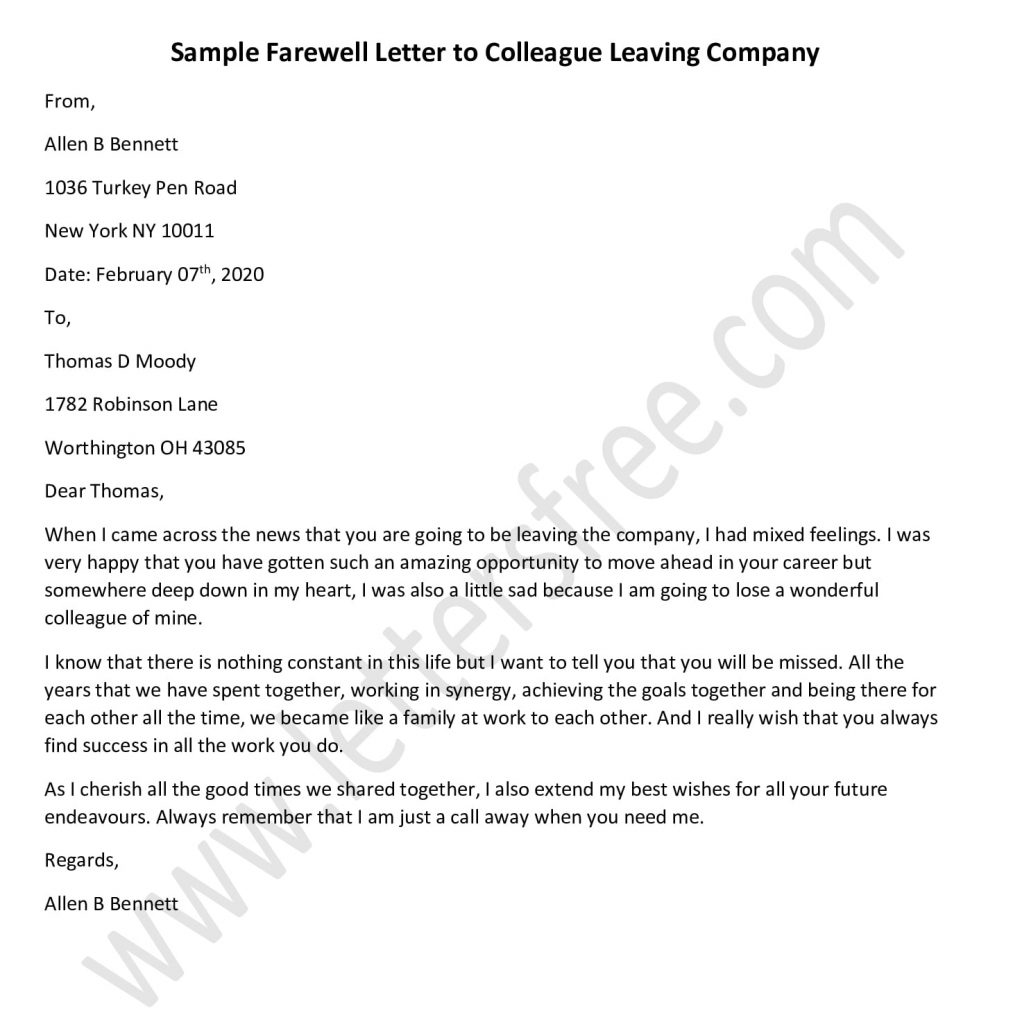 When someone leaves a company, he or she also leaves behind lots of colleagues and co-workers. In such a situation, you can write a farewell letter to colleague leaving company just to tell him that how much he will be missed. There can be many different ways to express that but farewell letters make the best choice. You can draft an employee farewell letter expressing your thoughts as your co-worker leaves you. You can also frame a funny farewell letter to colleagues in office to gift them a smile as they leave the company.
Use the sample farewell letter to colleague to write a personalized farewell letter to employee to bid him goodbye, wish him good luck and also express your feelings as you are going to miss him.
Farewell Letter Writing Tips
If you are not sure how to draft a farewell letter to colleague leaving the company then here are some useful farewell letter writing tips which you can use to have a perfect letter:
Always be cautious of the tone of the letter keeping in mind the circumstances under which your colleague is leaving the organization.
Start with acknowledging and expressing your thoughts as your colleague is leaving. Do mention how you feel about the whole scenario.
Do not forget to mention the good times and experiences you share with him.
Always wish your colleague good luck for future.
You can also ask him or her to stay connected.
Sample Farewell Letter to Colleague Leaving Company
From,
Allen B Bennett
1036 Turkey Pen Road
New York NY 10011
Date: February 07th, 2020
To,
Thomas D Moody
1782 Robinson Lane
Worthington OH 43085
Dear Thomas,
When I came across the news that you are going to be leaving the company, I had mixed feelings. I was very happy that you have gotten such an amazing opportunity to move ahead in your career but somewhere deep down in my heart, I was also a little sad because I am going to lose a wonderful colleague of mine.
I know that there is nothing constant in this life but I want to tell you that you will be missed. All the years that we have spent together, working in synergy, achieving the goals together and being there for each other all the time, we became like a family at work to each other. And I really wish that you always find success in all the work you do.
As I cherish all the good times we shared together, I also extend my best wishes for all your future endeavours. Always remember that I am just a call away when you need me.
Regards,
Allen B Bennett
Given Below are a few Farewell letter samples for a clearer Idea.
Farewell Letter to Employee from Manager
Farewell Letter to Boss Who is Leaving
Farewell Party Invitation Letter
Farewell Letter to Teacher
Farewell Letter after Resignation
Farewell Letter to Clients
Business Farewell Letter
Sample Farewell Letter From Ambassador
Top Search: