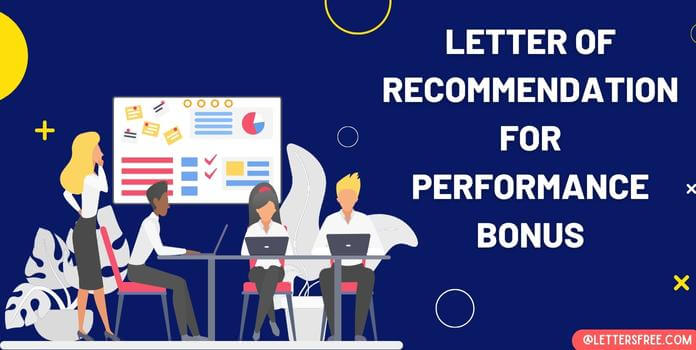 A letter of recommendation for performance bonus can make a lot of difference and therefore, it is considered to be an important letter. The performance bonus letter of employee to the employer is written with the intention to put forward the work done by the employee in a certain time which is going to affect his or her bonus.
In this post, we bring to you a sample bonus letter. This bonus letter to employer for employee is a wonderful way of sharing the details about the good work done by the employee. You can use this letter of recommendation format in order to create your own letter.
Sample Format for Letter of Recommendation for Performance Bonus
From:
Richard Smith
Deputy Sales Manager
Zenith Technologies
New York
Date: August 29, 2023
To,
Mr. John Black
HR Manager
Zenith Technologies
New York
Dear Mr. John,
I am writing this letter on behalf of Mr. Robin Gibbs, the sales officer, whom works under me in the Sales Department. I have observed that in the last one year, Mr. Robin has managed to get some of the most difficult accounts for our company using his impressive sales skills.
Mr. Robin has converted some of our potential clients into our clients who have come onboard with us because of his persuasion and hard work. One of the most important accounts, Wellness Resorts, that we had been chasing from last two years, he could manage to get that as well onboard which is truly a work of excellence.
He is a dedicated and focused employee who has a positive approach to whatever challenges come his way. His conduct and work ethics are commendable and therefore, I strongly recommend you to kindly consider Mr. Robin Gibbs for a performance bonus for the past year as he truly deserves it.
Good employees do not come easy and when you have them in your company, you must appreciate they work and honor them for the same. This would encourage them to perform better and they are going to set important examples in our company. Therefore, I would request you to consider my recommendation. I would also like to thank you for your time and consideration. Looking forward for your decision.
Sincerely,
Richard Smith
Deputy Sales Manager
Zenith Technologies
New York