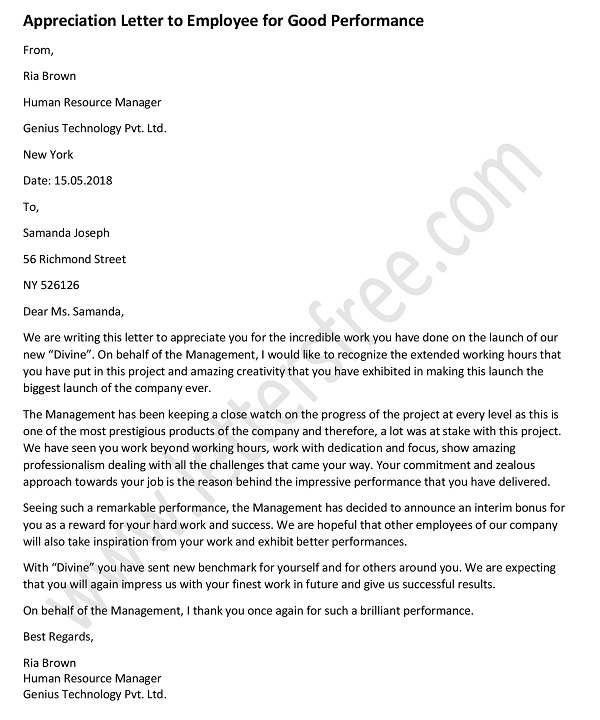 Never underrate the words of appreciation as they have the power to motivate a person. All good employees long for appreciation from their company for a job well done. Sending an appreciation letter for good work can infuse your employee with new energy levels to put in more hard work and dedication into his job. Sample Letter of Appreciation for Support is an effective way of acknowledging the efforts. Some companies even write thank you letter to employees for excellent performance.
Use the example format for appreciation letter for good service to say well done!!! With this good performance letter sample, you can appreciate your staff for good job at work.
Appreciation Letter to Employee for Good Performance
From,
Ria Brown
Human Resource Manager
Genius Technology Pvt. Ltd.
New York
Date: 15.05.2018
To,
Samanda Joseph
56 Richmond Street
NY 526126
Dear Ms. Samanda,
We are writing this letter to appreciate you for the incredible work you have done on the launch of our new "Divine". On behalf of the Management, I would like to recognize the extended working hours that you have put in this project and amazing creativity that you have exhibited in making this launch the biggest launch of the company ever.
The Management has been keeping a close watch on the progress of the project at every level as this is one of the most prestigious products of the company and therefore, a lot was at stake with this project. We have seen you work beyond working hours, work with dedication and focus, show amazing professionalism dealing with all the challenges that came your way. Your commitment and zealous approach towards your job is the reason behind the impressive performance that you have delivered.
Seeing such a remarkable performance, the Management has decided to announce an interim bonus for you as a reward for your hard work and success. We are hopeful that other employees of our company will also take inspiration from your work and exhibit better performances.
With "Divine" you have sent new benchmark for yourself and for others around you. We are expecting that you will again impress us with your finest work in future and give us successful results.
On behalf of the Management, I thank you once again for such a brilliant performance.
Best Regards,
Ria Brown
Human Resource Manager
Genius Technology Pvt. Ltd.
Given Below are a few Appreciation letter sample for a clearer Idea.
Appreciation and Thank You Letter for Help at Work
No matter how independent you are, you will always need help and support of people around you.
Business Appreciation Letter
Business appreciation letter serves as a common document in formal business communications and professional relationships.
Customer Appreciation Letter Format
A customer appreciation letter is a formal business letter written with a personal touch. Such letters are usually addressed by the head, manager or any other undersigned senior authority on behalf of the organization.
Appreciation Letter for Donation
Appreciation letter for donation are usually addressed by the project head, organization's director, founder or it could be anyone who remains at the receiving end of some help.
Appreciation Letter to a Friend
Sample Appreciation letter for friend is the best way to say thank you. You can write a thank you letter to your friend for his/her timely help or guidance.
Retirement Appreciation Letter
A retirement appreciation letter is addressed to a person who is retiring from job simply to thank for what he has done during the service period.
Teacher Appreciation Letter
Teacher appreciation letters are both professional and personal at the same time. Such letters are normally written to teachers to express admiration for what he/she has done for you or for some special event.
Employee Appreciation Letter Example
Employee appreciation letter is an effective way to express your recognition. This simple gesture will help you reach the hearts and minds of your staff to connect and retain them.
Appreciation Letter to Boss
Sample Appreciation letter to boss is a simple gesture of admiration that can be of a great help to develop healthy professional relationships at your workplace.
Top Search: