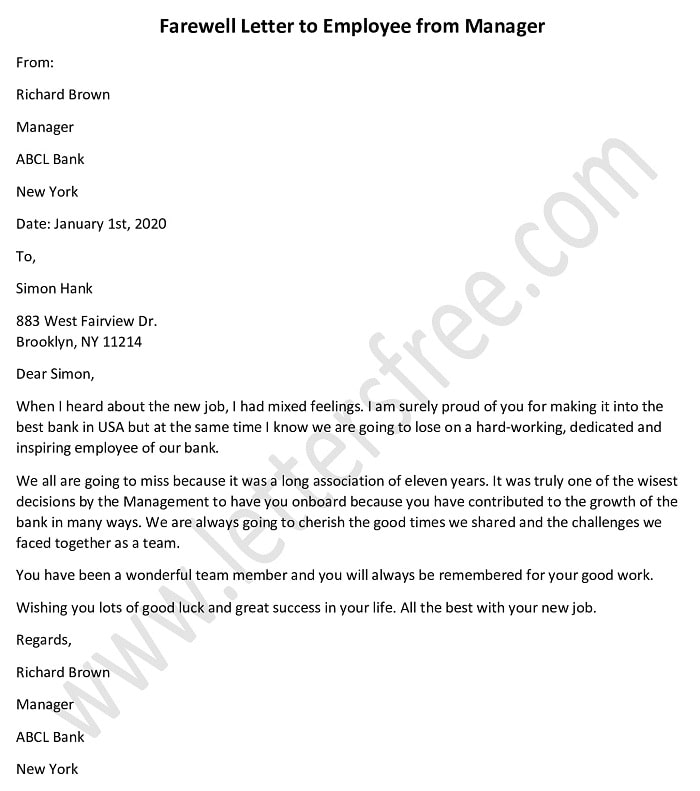 When you part ways, writing farewell letters is a wonderful way of expressing your good wishes. For a manager, his employees are like his family at work and when an employee leaves, employee farewell letters are a perfect way to wish them success and also remember the good times spent together. Goodbye farewell letter to employee from manager are a perfect way to wish the good luck for future. Just like there are farewell letters to boss, there are also farewell letters to employees from manager.
In this post, we bring to you a sample farewell letter from manager to employee which you can use to suit your requirements.
Sample Farewell Letter from Manager to Employee
From:
Richard Brown
Manager
ABCL Bank
New York
Date: January 1st, 2020
To,
Simon Hank
883 West Fairview Dr.
Brooklyn, NY 11214
Dear Simon,
When I heard about the new job, I had mixed feelings. I am surely proud of you for making it into the best bank in USA but at the same time I know we are going to lose on a hard-working, dedicated and inspiring employee of our bank.
We all are going to miss because it was a long association of eleven years. It was truly one of the wisest decisions by the Management to have you onboard because you have contributed to the growth of the bank in many ways. We are always going to cherish the good times we shared and the challenges we faced together as a team.
You have been a wonderful team member and you will always be remembered for your good work.
Wishing you lots of good luck and great success in your life. All the best with your new job.
Regards,
Richard Brown
Manager
ABCL Bank
New York
Given Below are a few Farewell letter samples for a clearer Idea.
Farewell Letter to Colleague Leaving Company
Funny Farewell Letter to Colleagues in Office
Farewell Letter to Boss Who is Leaving
Funny Farewell Letter
Farewell Party Invitation Letter
Farewell Letter to Teacher
Farewell Letter to Colleagues
Farewell Letter after Resignation
Farewell Letter to Clients
Business Farewell Letter