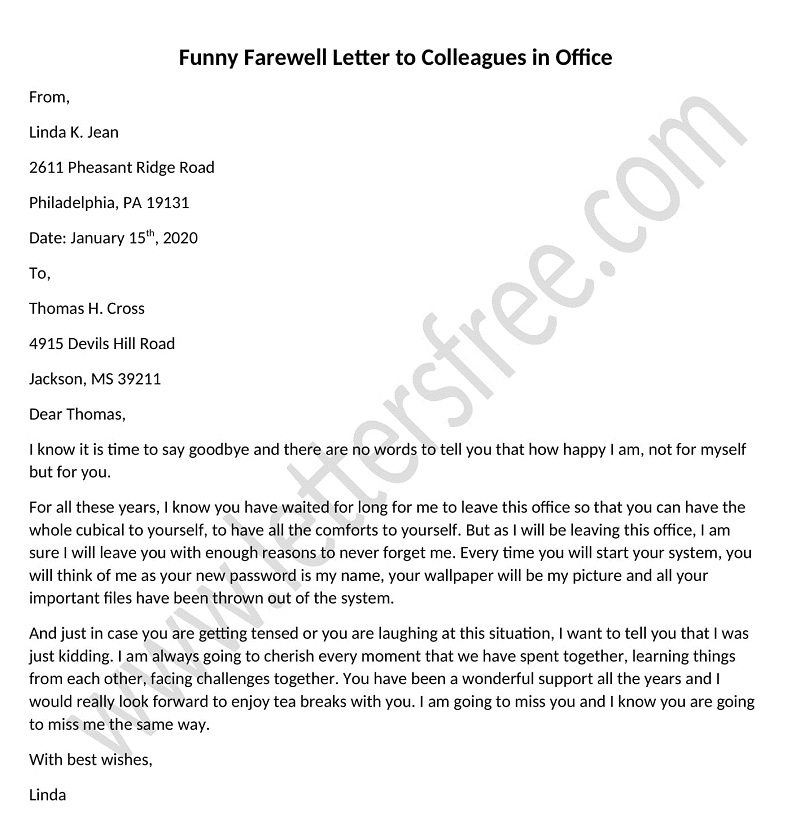 When you are leaving your present office, you must bid your colleagues at work goodbye with a funny farewell letter. Tell your colleagues how amazing it was to work together and how much you are going to be missing them with funny farewell letter to colleagues in office. Farewell letters to coworkers are a wonderful and sweet way to express your thoughts and wish your co-worker good luck for the future.
In this post, we bring to you a funny goodbye letter to colleagues. Use this sample farewell letter example to wish your colleagues all the best and also tell them goodbye.
Sample Funny Farewell Letter to Colleagues in Office
From,
Linda K. Jean
2611 Pheasant Ridge Road
Philadelphia, PA 19131
Date: January 15th, 2020
To,
Thomas H. Cross
4915 Devils Hill Road
Jackson, MS 39211
Dear Thomas,
I know it is time to say goodbye and there are no words to tell you that how happy I am, not for myself but for you.
For all these years, I know you have waited for long for me to leave this office so that you can have the whole cubical to yourself, to have all the comforts to yourself. But as I will be leaving this office, I am sure I will leave you with enough reasons to never forget me. Every time you will start your system, you will think of me as your new password is my name, your wallpaper will be my picture and all your important files have been thrown out of the system.
And just in case you are getting tensed or you are laughing at this situation, I want to tell you that I was just kidding. I am always going to cherish every moment that we have spent together, learning things from each other, facing challenges together. You have been a wonderful support all the years and I would really look forward to enjoy tea breaks with you. I am going to miss you and I know you are going to miss me the same way.
With best wishes,
Linda
Given Below are a few Farewell letter samples for a clearer Idea.
Farewell Letter to Colleague Leaving Company
Farewell Letter to Boss Who is Leaving
Farewell Party Invitation Letter
Farewell Letter to Teacher
Farewell Letter after Resignation
Farewell Letter to Clients
Business Farewell Letter