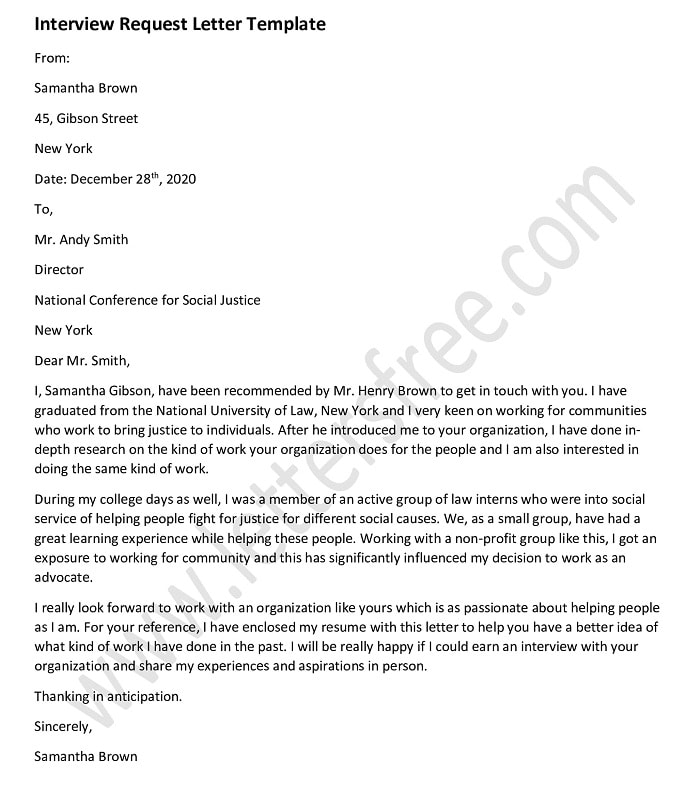 Interview request letter is written with an intention to take the interview of some renowned personality who has had some accomplishments in a specific field. An interview letter format must include some appreciation about that person. There are also job interview request letters. These interview request letter from employer are written with an intention to seek a face-to-face interview. If you wish to interview in a particular company for a particular reason then writing a letter can be very helpful
In this post, we bring to you interview request letter template. Use this interview request letter sample to create your personalized letter.
Job Interview Request Letter Sample
From:
Samantha Brown
45, Gibson Street
New York
Date: December 28th, 2020
To,
Mr. Andy Smith
Director
National Conference for Social Justice
New York
Dear Mr. Smith,
I, Samantha Gibson, have been recommended by Mr. Henry Brown to get in touch with you. I have graduated from the National University of Law, New York and I very keen on working for communities who work to bring justice to individuals. After he introduced me to your organization, I have done in-depth research on the kind of work your organization does for the people and I am also interested in doing the same kind of work.
During my college days as well, I was a member of an active group of law interns who were into social service of helping people fight for justice for different social causes. We, as a small group, have had a great learning experience while helping these people. Working with a non-profit group like this, I got an exposure to working for community and this has significantly influenced my decision to work as an advocate.
I really look forward to work with an organization like yours which is as passionate about helping people as I am. For your reference, I have enclosed my resume with this letter to help you have a better idea of what kind of work I have done in the past. I will be really happy if I could earn an interview with your organization and share my experiences and aspirations in person.
Thanking in anticipation.
Sincerely,
Samantha Brown
Given Below are a few Interview Letter samples for a clearer Idea.
Interview Call Letter Format
Interview Request Letter
Interview Response Letter
Interview Rejection Letter
Interview Decline Letter
Interview Offer Letter
Interview Feedback Letter
Interview Invitation Letter
Post Interview Letter
Interview Thank You Letter
Interview Letter for Employment