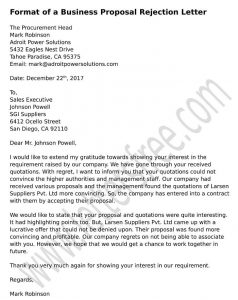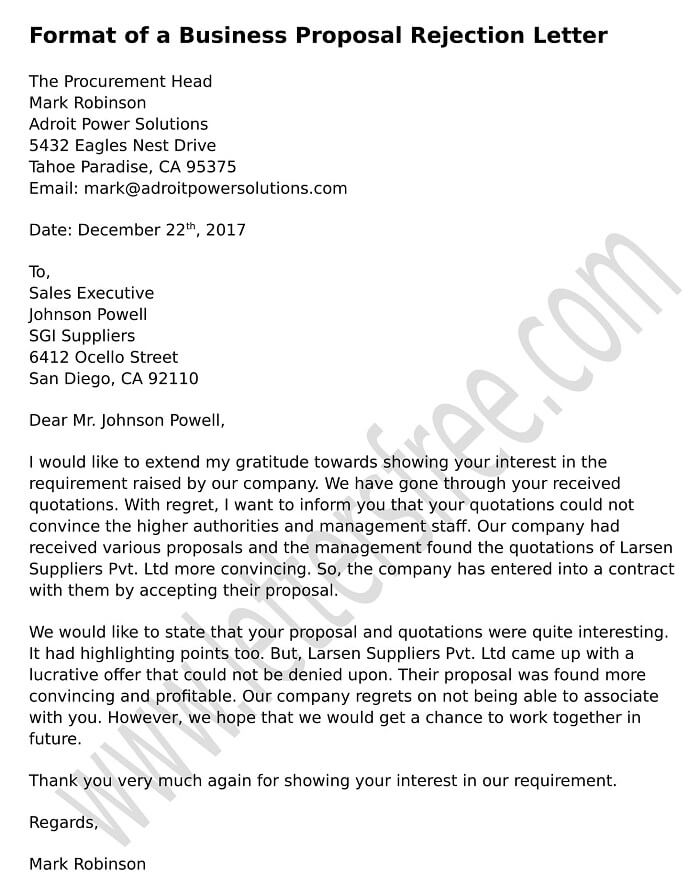 First of all, it is important to know what to include in the rejection letter and how to decline a vendor proposal. This letter is sent in as a response to the proposal given by another organization to serve the company requirements. The main purpose of the letter is to deliver the message that the said proposal has been rejected. Certainly, the Proposal Rejection Letter is written with the aim of maintaining a good rapport with the other. It is known that the every individual has his own importance in the business, which mandates for developing effectual connections with them. So, a rejection letter forms a part of the business ethics.
When it comes to the matter of writing a rejection letter to vendor proposal, the tone of the letter has to be professional and polite. Certainly, it is all about maintaining decency and decorum in the letter for sure.
On the requirement of task raised by the organization, the company tends to receive numerous proposals from others in the relative business. In order to select from the available proposals, the management authorities takes a bit of time to weigh pros and cons associated with each proposal. Along with this, the company will be checking out the percentage of profit associated with proposal sent. This is important because a company will give the tender to the other company in finding financial gains out of it. So, one of many proposals will have to be finalized. But, it is important to maintain a cordial rapport with other companies as well. In this regard, one can reject a business proposal politely by sending email. Under mentioned is the business rejection letter sample that can be used.
Format of a Business Proposal Rejection Letter
The Procurement Head
Mark Robinson
Adroit Power Solutions
5432 Eagles Nest Drive
Tahoe Paradise, CA 95375
Email: [email protected]
Date: December 22th, 2017
To,
Sales Executive
Johnson Powell
SGI Suppliers
6412 Ocello Street
San Diego, CA 92110
Dear Mr. Johnson Powell,
I would like to extend my gratitude towards showing your interest in the requirement raised by our company. We have gone through your received quotations. With regret, I want to inform you that your quotations could not convince the higher authorities and management staff. Our company had received various proposals and the management found the quotations of Larsen Suppliers Pvt. Ltd more convincing. So, the company has entered into a contract with them by accepting their proposal.
We would like to state that your proposal and quotations were quite interesting. It had highlighting points too. But, Larsen Suppliers Pvt. Ltd came up with a lucrative offer that could not be denied upon. Their proposal was found more convincing and profitable. Our company regrets on not being able to associate with you. However, we hope that we would get a chance to work together in future.
Thank you very much again for showing your interest in our requirement.
Regards,
Mark Robinson
Download Letters for Rejection Of Business Proposal in Word Format
Given Below are a few Proposal Letter Example for a clearer Idea.
Sample Business Proposal Letter for Partnership
If you wish to enter into a business partnership to start a new business or grow the present one or to enter the new markets, you must draft a professional business proposal letter.
Tips for Writing Effective Job Rejection Letter
Writing a job rejection letter is difficult as it is about declining the offer.
Tips for Writing Effective Interview Rejection Letter
Writing an interview rejection letter is not easy, so you need tips to write it perfectly.
Tips to write an Internship Rejection Letter
Writing an Internship Rejection Letter is not easy to write as it deals with emotion of the candidate.
9 Tips for Writing a Follow Up Letter After Rejection
Follow up letter after rejection is an unconventional way of expressing your feeling without losing the politeness.
Job Rejection Letter
A job rejection letter is produced when an applicant rejects a job offer made by a company.
Interview Rejection Letter
A company writes this interview rejection letter to the applicant who appeared in an interview process conducted by the company.
Internship Rejection Letter
A company or an organization writes this Internship Rejection Letter to a candidate to inform him/her that the application for the post of internship is rejected.
Follow Up Letter After Rejection
This type of letter is written to show willingness of perusing a dream, even after fail to go through.
Top Search: