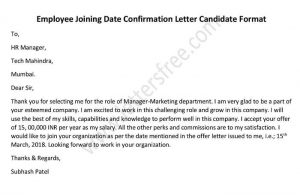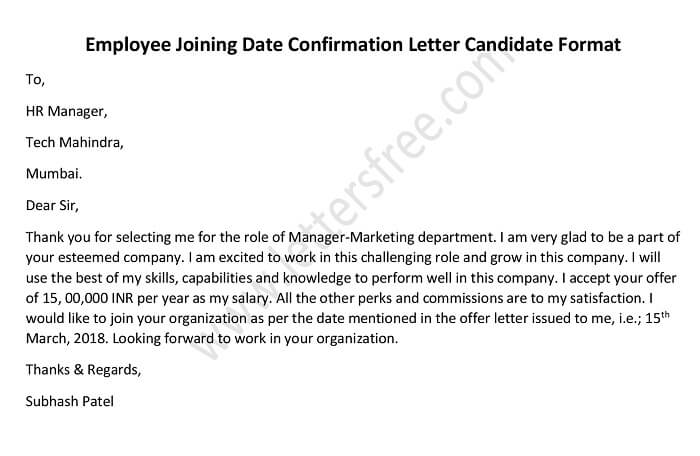 Employees go through an interview process to get selected in an organization. The candidate received a job confirmation letter from employer mentioning all the details and joining date in that confirmation letter. Even if you confirm the offer letter over a phone, it is always advisable to write an acceptance letter of employment. Mention the joining date and the designation for which you have been appointed in a mail and accept the offer letter. We have written a sample joining date confirmation letter/acceptance letter as a sample for your use.
To,
HR Manager,
Tech Mahindra,
Mumbai.
Dear Sir,
Thank you for selecting me for the role of Manager-Marketing department. I am very glad to be a part of your esteemed company. I am excited to work in this challenging role and grow in this company. I will use the best of my skills, capabilities and knowledge to perform well in this company. I accept your offer of 15, 00,000 INR per year as my salary. All the other perks and commissions are to my satisfaction. I would like to join your organization as per the date mentioned in the offer letter issued to me, i.e.; 15th March, 2018. Looking forward to work in your organization.
Thanks & Regards,
Subhash Patel
Given Below are a few confirmation letter samples for a clearer Idea.
Confirmation Letter Format for Training by Company
Confirmation Letter Format Confirmation letters are quite common letters used between employees and employers.
Confirmation Letter of Leave Application
A confirmation letter is issued by the management in response to the leave application submitted by the candidate. This letter confirms or grants the leave to the candidate.
Sample Confirmation Letter for Interview
The confirmation letter for an interview is written to confirm the scheduled for an interview of the candidate with the organization.
Confirmed Letter of Credit
A Letter of credit is basically issued from one financial institution or any institution of the same kind to a person to make a confirmation in respect of his/her credit application.
Religious Confirmation Letter Sample
The religious confirmation letter is basically written in Roman Catholic places. This letter is the way through which person receives the permission to undergo the confirmation procedure for a Catholic sacrament.
Salary Confirmation Letter Format
A Salary verification letter confirms that an employee works for the company with his/her current salary. An employer typically creates a Salary Verification Letter.