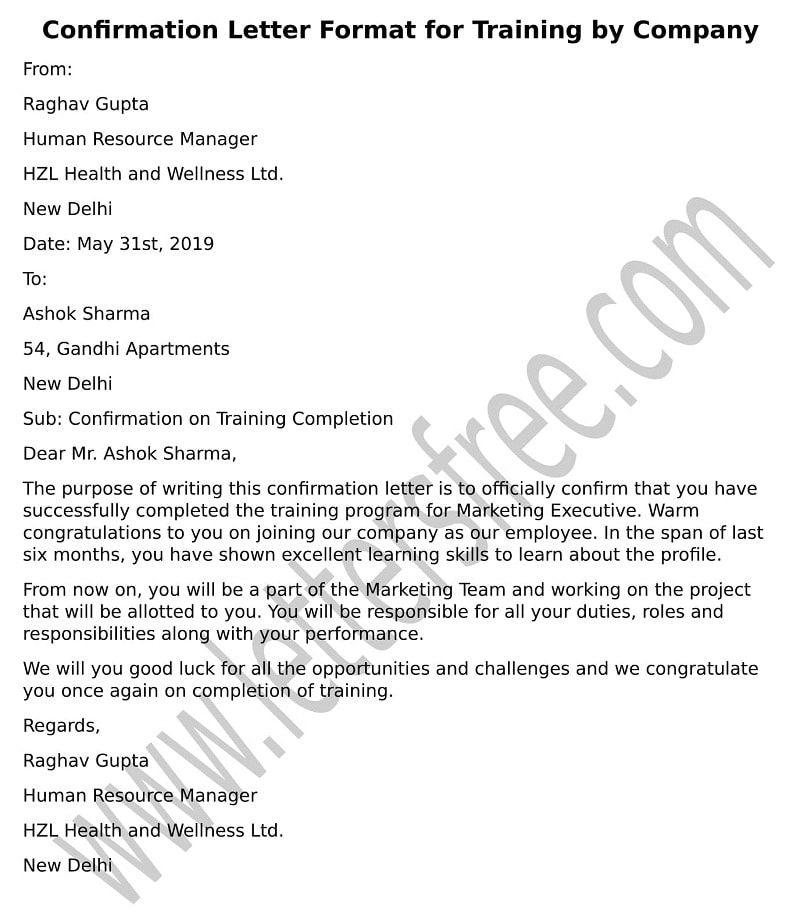 Confirmation letters are quite common letters used between employees and employers. If a company wants to inform the trainees about confirmation on completing training then for that confirmation letter is sent to the trainees who are undertaking the training. There are different sorts of confirmation letters like confirmation letter for training attendance, confirmation request letter sample, training completion letter sample.
Here is the sample confirmation letter format for training. You can use this training letter from company to employee by customizing it as per your requirement.
Confirmation Training Letter from Company to Employee
From:
Raghav Gupta
Human Resource Manager
HZL Health and Wellness Ltd.
New Delhi
Date: May 31st, 2019
To:
Ashok Sharma
54, Gandhi Apartments
New Delhi
Sub: Confirmation on Training Completion
Dear Mr. Ashok Sharma,
The purpose of writing this confirmation letter is to officially confirm that you have successfully completed the training program for Marketing Executive. Warm congratulations to you on joining our company as our employee. In the span of last six months, you have shown excellent learning skills to learn about the profile.
From now on, you will be a part of the Marketing Team and working on the project that will be allotted to you. You will be responsible for all your duties, roles and responsibilities along with your performance.
We will you good luck for all the opportunities and challenges and we congratulate you once again on completion of training.
Regards,
Raghav Gupta
Human Resource Manager
HZL Health and Wellness Ltd.
New Delhi
Top Search: