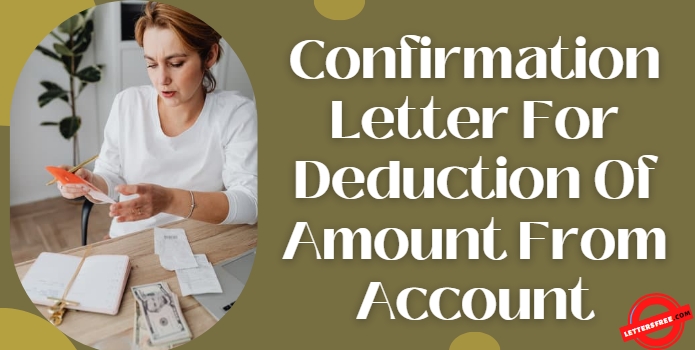 There are many transactions that take place in an account for which the confirmation has to be taken from the client and in order to do that writing a Letter from bank Manager for deduction of money from account is the right thing to do. Writing an application for money deduction in account is quite a simple thing to do.
In this post, we have come up with a sample formation for confirmation letter for deduction of amount from account which you can utilize for drafting your own letter.
Confirmation Letter Format for Amount Deduction from Account
From:
Anthony Gibbs
Branch Manager
ABC Bank
New York
Date: February 10th, 2023
To,
Ms. Ana Smith
54, Richmond Town,
New York
Dear Ms. Ana,
We are writing this letter in reference to the payment initiated by you on February 08th. There has been a deduction of amount $ 480 from your account.
For the above mentioned payment, the transaction ID is 78895. You are requested to kindly acknowledge as well as confirm the deduction of the amount. In case you have any questions or queries in relation with this issue then please get in touch with us at 9898989898.
Regards,
Anthony Gibbs
Branch Manager
ABC Bank
New York
More Other Related Letter Format, Sample
Confirmation Letter for Training by Company
Internship Confirmation Letter from Company to Students
Confirmation Letter of Leave Application
Bank Account Verification Letter for Visitor Visa