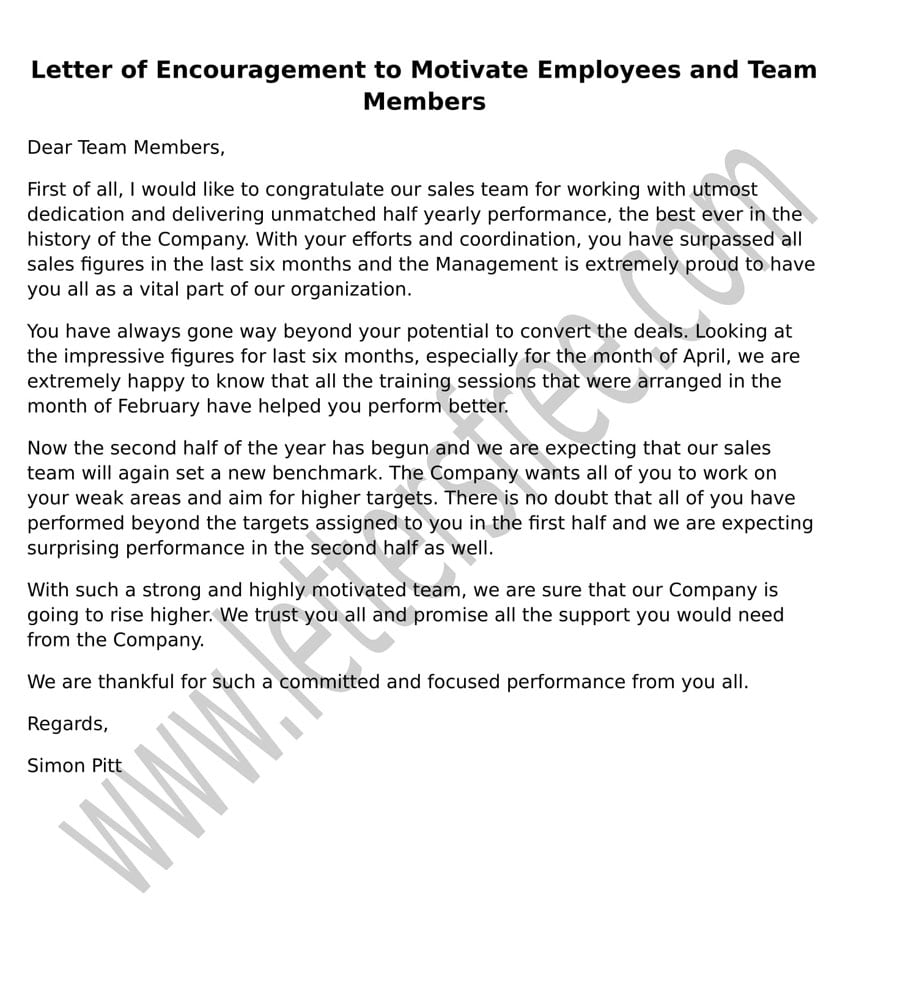 It is the duty of the manager or the team leader to always appreciate and encourage the employees for their performance. Few words of encouragement have stronger impact in comparison with monetary benefits. So if you want that your team members constantly deliver better performance then don't hesitate in writing a letter of encouragement to them, to infuse them with more energy and you will surely be impressed with the results.
To help you, we have come up with a formally drafted letter of encouragement for employees and team members. You may use this sample template to create your own letter to motivate them.
Format for Letter of Encouragement for Employees and Team Members
Dear Team Members,
First of all, I would like to congratulate our sales team for working with utmost dedication and delivering unmatched half yearly performance, the best ever in the history of the Company. With your efforts and coordination, you have surpassed all sales figures in the last six months and the Management is extremely proud to have you all as a vital part of our organization.
You have always gone way beyond your potential to convert the deals. Looking at the impressive figures for last six months, especially for the month of April, we are extremely happy to know that all the training sessions that were arranged in the month of February have helped you perform better.
Now the second half of the year has begun and we are expecting that our sales team will again set a new benchmark. The Company wants all of you to work on your weak areas and aim for higher targets. There is no doubt that all of you have performed beyond the targets assigned to you in the first half and we are expecting surprising performance in the second half as well.
With such a strong and highly motivated team, we are sure that our Company is going to rise higher. We trust you all and promise all the support you would need from the Company.
We are thankful for such a committed and focused performance from you all.
Regards,
Simon Pitt
Other Related Encouragement Letter Format, Templates and Examples
Encouragement Letter to Friend
Sample Letter of Encouragement to Motivate My Son
Letter of Encouragement For People Going Through Difficult Times
Sample Letter of Encouragement for My Little Sister
Letter of Encouragement for Covid Patients