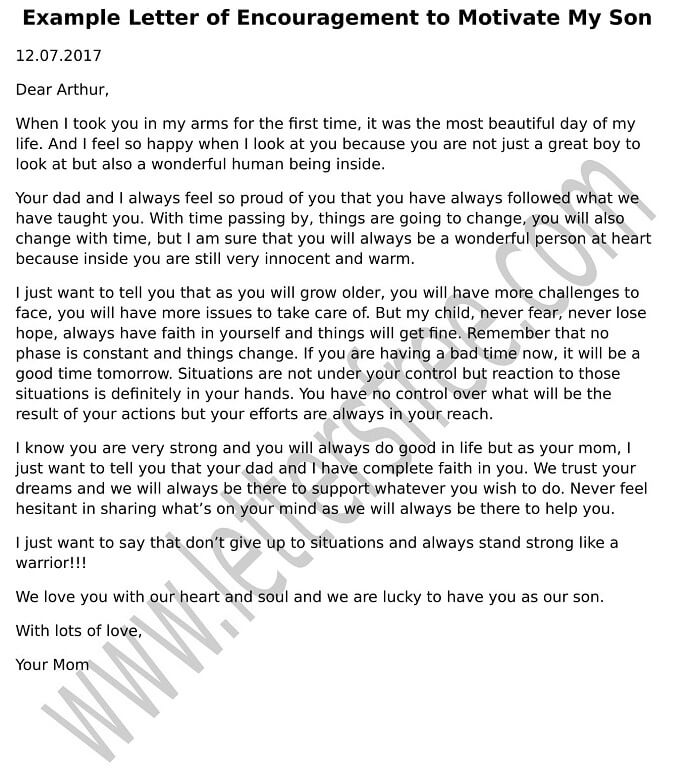 As a parent, it is your duty to appreciate and encourage your son. There are times that a few words of encouragement can give him all the power and energy to work with more dedication and force to achieve his goals. We must not forget that as our children grow up, they face toughest challenges of life and a letter of encouragement from their parents can prove to be the best thing in the hard times.
To help you write a wonderful inspiration letter of encouragement to your son, we have come up with a sample example letter to give you an idea to write you own. You can also customize this one to suit your needs.
Example Letter of Encouragement to Motivate My Son
12.07.2017
Dear Arthur,
When I took you in my arms for the first time, it was the most beautiful day of my life. And I feel so happy when I look at you because you are not just a great boy to look at but also a wonderful human being inside.
Your dad and I always feel so proud of you that you have always followed what we have taught you. With time passing by, things are going to change, you will also change with time, but I am sure that you will always be a wonderful person at heart because inside you are still very innocent and warm.
I just want to tell you that as you will grow older, you will have more challenges to face, you will have more issues to take care of. But my child, never fear, never lose hope, always have faith in yourself and things will get fine. Remember that no phase is constant and things change. If you are having a bad time now, it will be a good time tomorrow. Situations are not under your control but reaction to those situations is definitely in your hands. You have no control over what will be the result of your actions but your efforts are always in your reach.
I know you are very strong and you will always do good in life but as your mom, I just want to tell you that your dad and I have complete faith in you. We trust your dreams and we will always be there to support whatever you wish to do. Never feel hesitant in sharing what's on your mind as we will always be there to help you.
I just want to say that don't give up to situations and always stand strong like a warrior!!!
We love you with our heart and soul and we are lucky to have you as our son.
With lots of love,
Your Mom
Other Related Encouragement Letter Format, Templates and Examples
Encouragement Letter to Friend
Letter of Encouragement to Motivate Employees and Team Members
Letter of Encouragement For People Going Through Difficult Times
Sample Letter of Encouragement for My Little Sister
Letter of Encouragement for Covid Patients
Top Search: