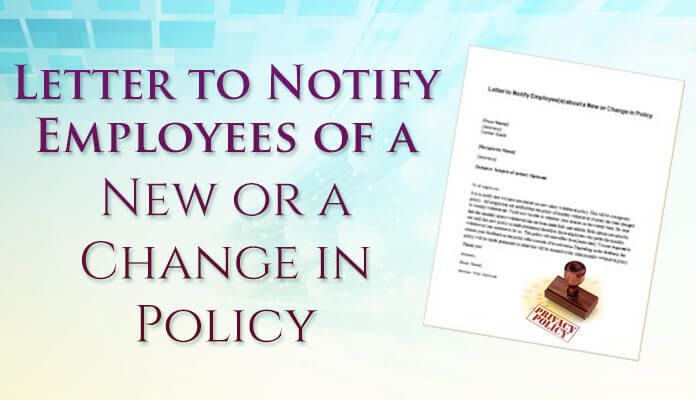 From time to time, organizations make changes in their policies and it is their duty to inform their employees about these new policies that they have introduced or the changes that they have made in the present policies. To do so, writing formal announcement letters or notification letters to employees is the right thing to do. These letters are suppose to be very short, including just the right amount of information that needs to be shared. There is nothing extra in such letters and they must be drafted with minimum number of words.
To help you understand better, here is a sample letter to announce the changes in policies or new policies to the employees. Customize it and use it to frame your own.
Sample Notification Letter to Inform Employees of New or Change in Policy
Dear Employees,
We would like to bring to your notice the recent changes made by Management in policy related with employees coming late at work. This change will come in effect from 1st April, 2017. According to this amendment, all those employees who will report at work late for more than three times in a month, they will be fined with an amount of Rs.5000, which was Rs.1000 before.
This change has been made because the Management has found a sudden increase in the numbers of late comers in last one year and it has affected the productivity of the company adversely. Our company always values and stresses on discipline and coming work on time is one value we really focus on. We strongly feel that reporting at work on time can help all of you achieve your targets and contribute to better product ion levels.
Each and every employee has to comply by this change in policy and we are positive that we will see a good change in our production. We look forward for cooperation from all our employees in this change that we have made in our policy.
Regards,
Management
Zenith Technologies Pvt. Ltd.
Given Below are a Few Sample Announcement Letter for a Clearer Ideas:
Memo Format to Establish Cell Phone Policy
Letter to Employees for Health Insurance Policy
Letter to Change Order of Wedding Cards due to Date Change
Sample Announcement Letter for New Policy
With time, changes are made in Company's Policies depending upon the need of the hour.
Wedding Announcement Letter
Wedding announcement letter is an informal letter. Every couple wants their friends and relatives to be a part of the nuptial occasion which will be one of the most cherished days of their lives.
Letter Announcing Employee Leaving
Gone are the days when traditional letters were used in companies and firms for any sort of announcement.
Death Announcement Letter
Death announcement letters can be both formal and informal. It is a simple declaration letter about someone's demise.
Retirement Announcement Letter
Retirement Announcement Letter is a formal letter to inform the employer that you are going to retire.
New Job Announcement Letter
New job announcement letters are usually written by the person assigned for the job of announcing new and upcoming job positions in any organization.
New Employee Announcement Letter
A New Employee Announcement letter is a formal announcement about the joining of a new employee in a company.
Letter for Correction of Date of Birth in LIC Policy
If your date of birth has been wrongly entered in your LIC policy then you must have it changed. For this, you have to write an application for change of date of birth in LIC policy.
Top Search: