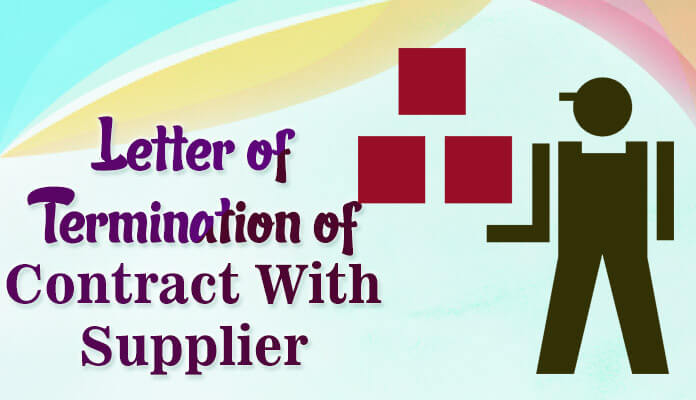 If you wish to terminate your business contract with a supplier or a vendor then writing a formal business contract termination letter is a must. This termination can be because of any reason but end of contract letter with a thank you note always shows how professional you are with your suppliers etc. Such letters are very specific in their content and include the regular details. You can send this contract termination letter as pdf to your client for termination of services.
Here is a sample letter of termination of contract with supplier which you can use for creating a customized letter with all details.
Sample of Contract Termination Letter With Supplier
From:
Samantha Brown
Production Manager,
Universal Cosmetics Pvt. Ltd.
42 Richmond Street,
London
Date: 1st February, 2017
To,
Julia Mars
Manager,
Amy Chemicals Pvt. Ltd.
11, St. Anthony Street
London
Dear Ms. Julia,
As you know that we are bonded in a contract of three years with you for supplies of chemicals and you have been associated with us as a supplier from last 10 months. But because your company has not been able to provide us with the standardized quality of raw material that we require for our products, despite several reminders. We had also issued you the warning in the same context in the month of December 2016 but we have failed to see any change in the quality of chemicals.
Our company is very particular about the quality and in last couple of months we have come across lots of complaints from our customers which is surely a big damage to our brand. Therefore, the management has decided to terminate this contract with you on 15th February, 2017. We need suppliers who can strictly adhere to our quality standards and with your supplies, quality has been a major issue.
We would request you to cooperate with us in clearing all the financial dues at the earliest.
Thanking in anticipation
Sincerely,
Samantha Brown
Production Manager,
Universal Cosmetics Pvt. Ltd.
Other Related Cancellation Letter Format, Template
Letter to Cancel Contract for Poor Workmanship
Cancellation Letter of a Service Contract
Contract Cancellation Letter
Contract Introduction Letter Template
Letter to Cancel a Water Service Contract
Top Search: