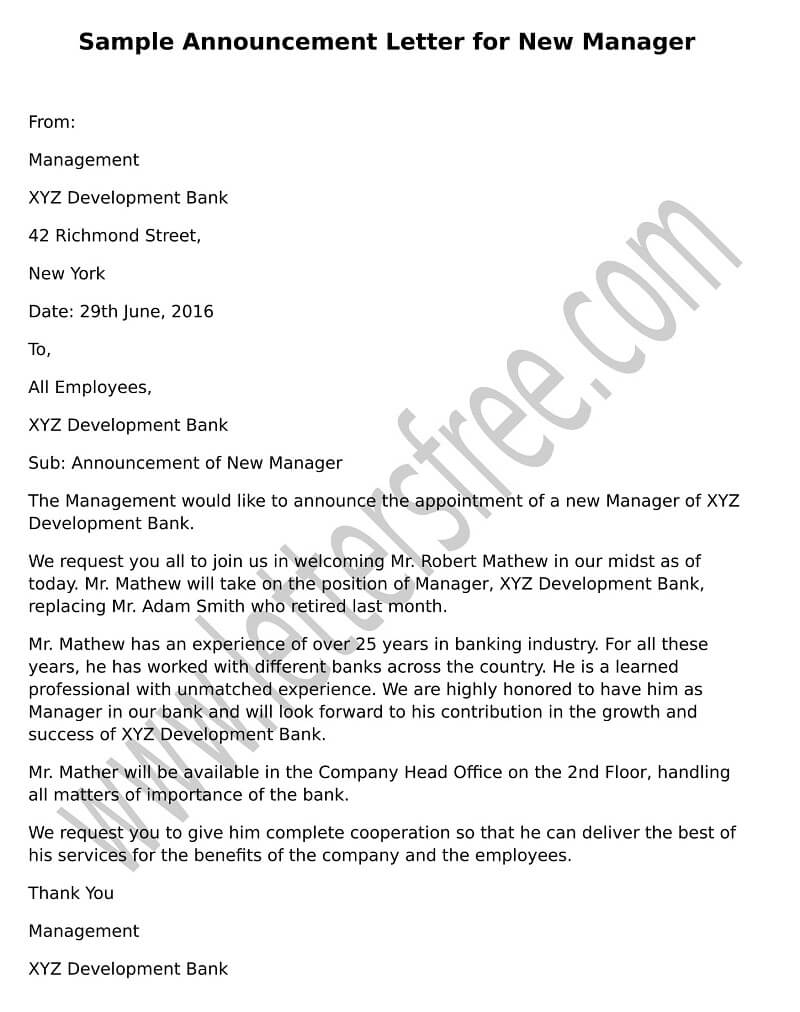 When a new employee joins the company or when a new manger is appointed, a formal announcement letter is given out by the management of the company in order to formally introduce the manager to the employees of the company. This is very important, especially if you are recruiting a high position. This letter is like a circular which is sent out to all the employees in the company to make sure that everyone is aware about the recent development.
Here is a sample format of announcement letter for new manager given below. Use this example for creating a customized letter.
Sample Announcement Letter for New Manager
From:
Management
XYZ Development Bank
42 Richmond Street,
New York
Date: 29th June, 2016
To,
All Employees,
XYZ Development Bank
Sub: Announcement of New Manager
The Management would like to announce the appointment of a new Manager of XYZ Development Bank.
We request you all to join us in welcoming Mr. Robert Mathew in our midst as of today. Mr. Mathew will take on the position of Manager, XYZ Development Bank, replacing Mr. Adam Smith who retired last month.
Mr. Mathew has an experience of over 25 years in banking industry. For all these years, he has worked with different banks across the country. He is a learned professional with unmatched experience. We are highly honored to have him as Manager in our bank and will look forward to his contribution in the growth and success of XYZ Development Bank.
Mr. Mather will be available in the Company Head Office on the 2nd Floor, handling all matters of importance of the bank.
We request you to give him complete cooperation so that he can deliver the best of his services for the benefits of the company and the employees.
Thank You
Management
XYZ Development Bank
Given Below are a Few Sample Announcement Letter for a Clearer Ideas:
Letter to Announce a New Business Location
Letter to Change Order of Wedding Cards due to Date Change
Sample Announcement Letter for New Policy
With time, changes are made in Company's Policies depending upon the need of the hour.
Wedding Announcement Letter
Wedding announcement letter is an informal letter. Every couple wants their friends and relatives to be a part of the nuptial occasion which will be one of the most cherished days of their lives.
Letter Announcing Employee Leaving
Gone are the days when traditional letters were used in companies and firms for any sort of announcement.
Death Announcement Letter
Death announcement letters can be both formal and informal. It is a simple declaration letter about someone's demise.
Retirement Announcement Letter
Retirement Announcement Letter is a formal letter to inform the employer that you are going to retire.
New Job Announcement Letter
New job announcement letters are usually written by the person assigned for the job of announcing new and upcoming job positions in any organization.
New Employee Announcement Letter
A New Employee Announcement letter is a formal announcement about the joining of a new employee in a company.
Top Search: