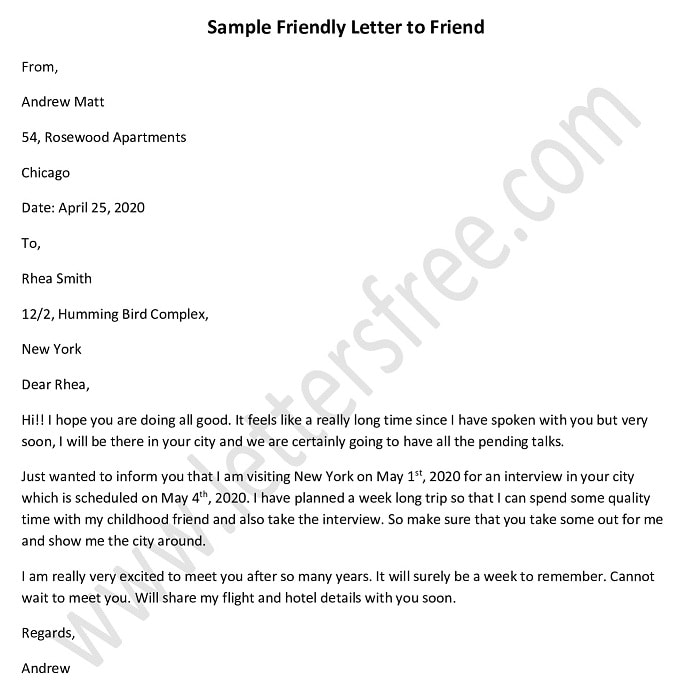 It is strange that we have forgotten to write letters to our friends but it is always a good idea to pen down your feelings or simply ask for the well-being of your friend. You can always write a friendly letter to a friend who is miles away. Ditch the phone call or an SMS and have your letter express your feelings. A friendly letter is certainly a wonderful way to connect with your dearest pal in a traditional way.
We bring to you a sample friendly letter to a friend. Use the friendly letter example to draft your own letter in a much easier way. With this friendly letter template, you will never be confused with how to draft your letter.
Sample Friendly Letter to Friend
From,
Andrew Matt
54, Rosewood Apartments
Chicago
Date: April 25, 2020
To,
Rhea Smith
12/2, Humming Bird Complex,
New York
Dear Rhea,
Hi!! I hope you are doing all good. It feels like a really long time since I have spoken with you but very soon, I will be there in your city and we are certainly going to have all the pending talks.
Just wanted to inform you that I am visiting New York on May 1st, 2020 for an interview in your city which is scheduled on May 4th, 2020. I have planned a week long trip so that I can spend some quality time with my childhood friend and also take the interview. So make sure that you take some out for me and show me the city around.
I am really very excited to meet you after so many years. It will surely be a week to remember. Cannot wait to meet you. Will share my flight and hotel details with you soon.
Regards,
Andrew
Given Below are a few Friendly Letter Formats for a clearer Idea.
Sample Friendly Letter 3rd Grade
Sample Friendly Letter for High School
Friendly Letter for Elementary
Kids Friendly Letter
Top Search: