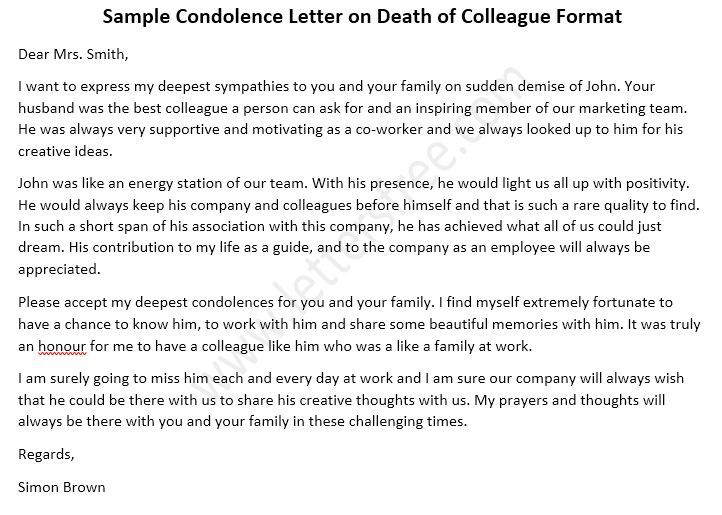 At office, your co-workers and colleagues are like a family and if you lose one of your colleagues then it is certainly a loss to you. In such a situation, writing a condolence letter or sympathy letter to his or her family is a warm way to express your feelings. In this situation of pain, words don't come when you have to frame a condolence letter on death of a colleague/employee.
In this post, you will find sample condolence letter for loss of colleague and employee along with condolence letter writing tips to create your own.
Tips to Write a Condolence Letter on Death of Colleague
We have come up with few important tips to keep in mind while writing condolence letter for co-worker:
Express your sympathy in the letter with politeness.
Extend your help to the family of your co-worker.
Share some good things or memories about your colleague.
Remind them to stay strong in this difficult situation.
Follow these tips to write your own or customize the sample condolence letter on death of colleague/employee to use it with ease.
Condolence Letter on Death of Colleague Sample Format
Dear Mrs. Smith,
I want to express my deepest sympathies to you and your family on sudden demise of John. Your husband was the best colleague a person can ask for and an inspiring member of our marketing team. He was always very supportive and motivating as a co-worker and we always looked up to him for his creative ideas.
John was like an energy station of our team. With his presence, he would light us all up with positivity. He would always keep his company and colleagues before himself and that is such a rare quality to find. In such a short span of his association with this company, he has achieved what all of us could just dream. His contribution to my life as a guide, and to the company as an employee will always be appreciated.
Please accept my deepest condolences for you and your family. I find myself extremely fortunate to have a chance to know him, to work with him and share some beautiful memories with him. It was truly an honour for me to have a colleague like him who was a like a family at work.
I am surely going to miss him each and every day at work and I am sure our company will always wish that he could be there with us to share his creative thoughts with us. My prayers and thoughts will always be there with you and your family in these challenging times.
Regards,
Simon Brown
You May Like Also Condolence Letter
Condolence Letters on the Death of Father
Condolence Letter on Death of Mother
Condolence Letter on Death of Employee
Condolence Letter to a friend who lost her Husband
Top Search: