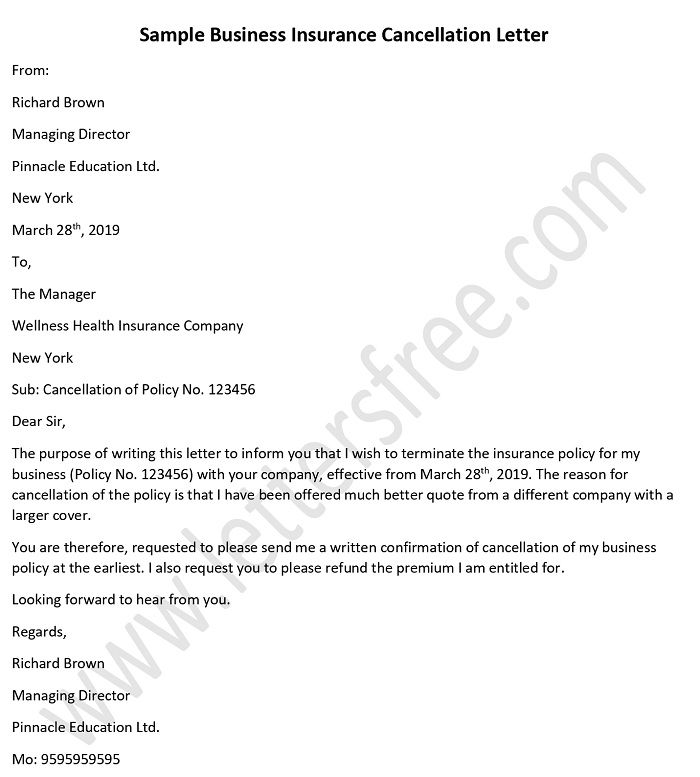 If you plan to cancel your business insurance policy then you have to send a policy cancellation letter to the insurance company. Whatever may be the reason, letter to cancel business insurance policy has to be drafted properly in order to inform the insurance company in a formal way.
Here is the sample insurance cancellation letter given for your reference. Use this sample business insurance cancellation letter format to create your own.
Tips to Write a Business Insurance Cancellation Letter
Follow these simple tips to frame a professional business insurance cancellation letter:
It has to be short and to the point.
Include the reason for cancellation of policy.
Include the policy number.
Don't forget to ask for the refund.
Also include your contact details.
Sample Format of Business Insurance Cancellation Letter
From:
Richard Brown
Managing Director
Pinnacle Education Ltd.
New York
March 28th, 2019
To,
The Manager
Wellness Health Insurance Company
New York
Sub: Cancellation of Policy No. 123456
Dear Sir,
The purpose of writing this letter to inform you that I wish to terminate the insurance policy for my business (Policy No. 123456) with your company, effective from March 28th, 2019. The reason for cancellation of the policy is that I have been offered much better quote from a different company with a larger cover.
You are therefore, requested to please send me a written confirmation of cancellation of my business policy at the earliest. I also request you to please refund the premium I am entitled for.
Looking forward to hear from you.
Regards,
Richard Brown
Managing Director
Pinnacle Education Ltd.
Mo: 9595959595
Other Related Letter Format, Example, and Template
How to Write a Meeting Cancellation Letter
Memo Format to Establish Cell Phone Policy
Letter for Correction of Date of Birth in LIC Policy
Sample Insurance Surrender Letter
Letter to Cancel an Insurance Policy
Health Insurance Cancellation Letter 
Sample Letter for LIC Policy Transfer from one Branch to Another
Sample Insurance Surrender Letter
Insurance Sales Letter
Insurance Claim Letter
Insurance Appeal Letter
Letter to Employees for Health Insurance Policy

Top Search: