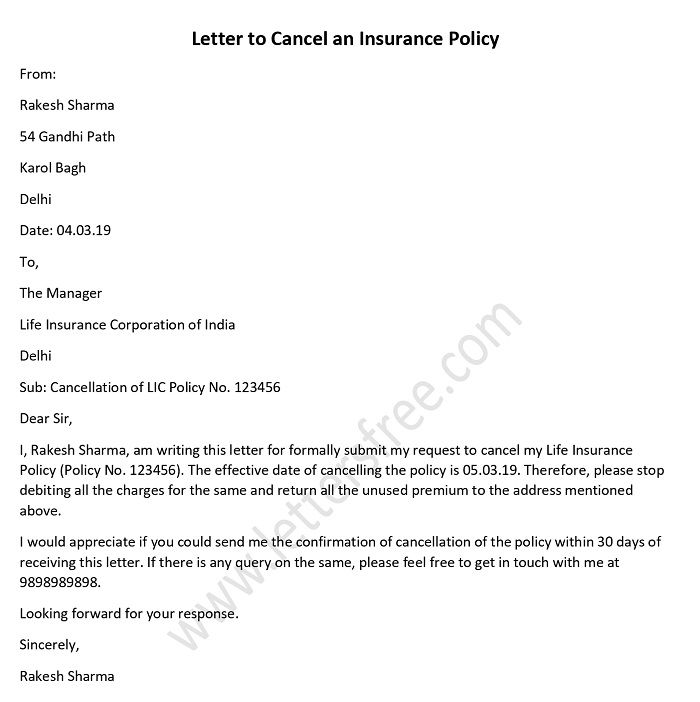 If you wish you cancel your LIC policy then you can do so anytime you wish. All you need to do is write a cancellation insurance letter in order to communicate your intentions in a formal way. You can use a LIC policy cancellation letter format which is not only the most effective way but doesn't require you talking to the representatives.
Here are some useful tips to write an effective formal LIC policy cancellation letter:
Clearly mention your intention of canceling the policy.
Include your policy number and contact details.
Also mention to stop all charges being debited from your account.
Include the date from when the policy needs to be cancelled effectively.
Keep it short and to the point.
Next, we have come up with sample letter to cancel an insurance policy. You can use this life insurance cancellation letter format to write your own letter. All you need to do is simply download and customize this cancel insurance policy letter sample in PDF or Word format and customize it.
Sample Cancellation of Life Insurance Policy Letter
From:
Rakesh Sharma
54 Gandhi Path
Karol Bagh
Delhi
Date: 07.03.19
To,
The Manager
Life Insurance Corporation of India
Delhi
Sub: Cancellation of LIC Policy No. 123456
Dear Sir,
I, Rakesh Sharma, am writing this letter for formally submit my request to cancel my Life Insurance Policy (Policy No. 123456). The effective date of cancelling the policy is 08.03.19. Therefore, please stop debiting all the charges for the same and return all the unused premium to the address mentioned above.
I would appreciate if you could send me the confirmation of cancellation of the policy within 30 days of receiving this letter. If there is any query on the same, please feel free to get in touch with me at 9898989898.
Looking forward for your response.
Sincerely,
Rakesh Sharma
You May Also Like Other Sample Letters
How to Write a Meeting Cancellation Letter
Sample Memo to Implement the Shifting Policy
Letter to Employees for Health Insurance Policy
Sample Letter for LIC Policy Transfer from one Branch to Another
Sample Insurance Surrender Letter
Letter for Correction of Date of Birth in LIC Policy
Insurance Sales Letter
Insurance Claim Letter
Insurance Cancellation Letter
Insurance Appeal Letter
Sample Business Insurance Cancellation Letter
Top Search: