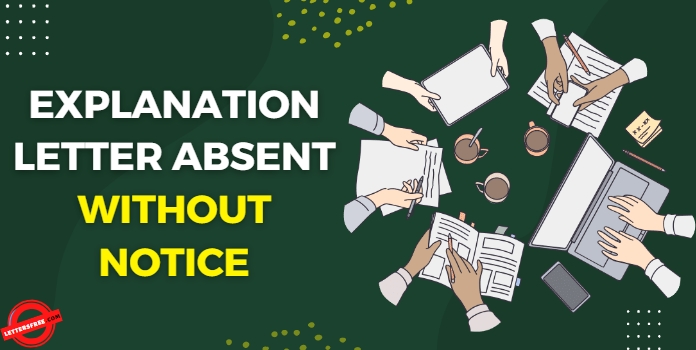 Being absent without notice is something that no organization approves of and if you have done something like that then you must write an Explanation Letter Absent Without Notice to your manager in order to explain your situation because of which you had to be absent and you could not inform about the same. You can use the explanation letter for absent in English for the same.
This post includes an Explanation Letter Sample Absent Without Notice. Feel free to use this explanation letter format, Sample for creating your own letter with ease.
Explanation Letter Format For Absence Without Notice
From:
Bill Smith
45, Richard Street,
New York
Date: March 15th, 2023
To,
Mr. Anthony Gibbs
Manager
Zenith Technologies
New York
Sub: Explanation letter for absence without notice
Dear Mr. Anthony,
I am writing this letter to apologize for my absence from work the last three days. I would like to share that I had met with an accident three days ago while coming to work and I had gotten seriously injured.
I was rushed to the hospital for medical assistance where I admitted for two days as I had hurt my head and doctors wanted to put me under 48 hours of observation to ensure that there was no internal injury or bleeding.
As soon as I got discharged, I am writing you this letter to kindly accept my apology and approve my leave for another two days as I have been advised complete bed rest by the doctors for another two days.
I shall be back soon and meanwhile if there is anything for which I am needed, I can be reached over phone as well as email and I will make sure that I will respond.
I am hopeful that you will consider my situation.
Thank you.
Sincerely,
Bill Smith
More Letter Sample and Example
Excuse Letter for Missing Work due to illness
Credit Inquiry Explanation Letter
Letter to Delegate Authority in Absence
Letter for Delegating Responsibilities for Absence from Work
Excuse Letter of Absence due to Toothache