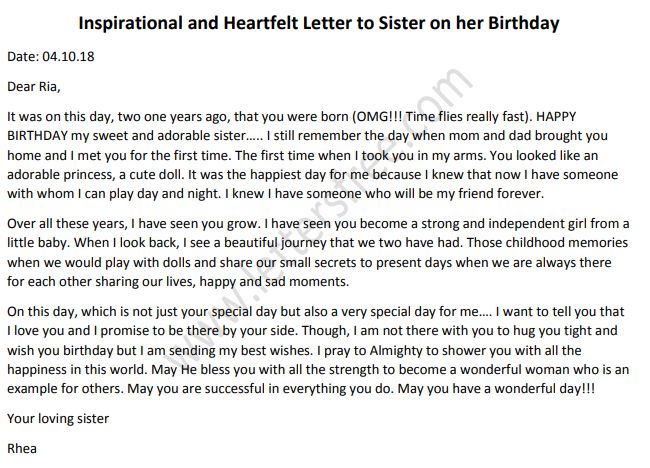 It's your sister's birthday!!! Surely a very special occasion because it was on this day she came into your life. Make her even more special by writing a Happy Birthday sister letter to her. Bring back the joy of writing letters by penning a heartfelt letter to sister on her birthday. Forget cards and messages and send her a Birthday Wishes Letter where you can write something more than just Happy Birthday. So write a birthday letter to cousin or an open letter to your older sister on her birthday.
We bring a beautiful, inspiration birthday letter for sister written with love. A heartfelt birthday letter to sister from brother that brings out the love they share. You can even use it to write a happy birthday letter to your late sister.
Birthday Letter to Sister on Her Birthday
Date: 04.10.18
Dear Ria,
It was on this day, two one years ago, that you were born (OMG!!! Time flies really fast). HAPPY BIRTHDAY my sweet and adorable sister….. I still remember the day when mom and dad brought you home and I met you for the first time. The first time when I took you in my arms. You looked like an adorable princess, a cute doll. It was the happiest day for me because I knew that now I have someone with whom I can play day and night. I knew I have someone who will be my friend forever.
Over all these years, I have seen you grow. I have seen you become a strong and independent girl from a little baby. When I look back, I see a beautiful journey that we two have had. Those childhood memories when we would play with dolls and share our small secrets to present days when we are always there for each other sharing our lives, happy and sad moments.
On this day, which is not just your special day but also a very special day for me…. I want to tell you that I love you and I promise to be there by your side. Though, I am not there with you to hug you tight and wish you birthday but I am sending my best wishes. I pray to Almighty to shower you with all the happiness in this world. May He bless you with all the strength to become a wonderful woman who is an example for others. May you are successful in everything you do. May you have a wonderful day!!!
Your loving sister
Rhea
Given Below are a few Birthday letter Samples for a clearer Idea.
Letter to a Teenage Daughter on her 16th Birthday From Mom
Mothers find their friends in their daughters and as daughters grow up, they are more like confidants for their moms.
Birthday Letter to Daddy from Daughter
Birthdays are the most awaited days for everyone. Being a daughter, if it is your daddy's birthday then it is all the more special day
Birthday Letter to Husband Format
First of all writing a letter is an art. Some people do have this art since birth and some has to inherit from their surroundings.
Birthday Letter to Friend
"Birthday" A day of celebration comes only once in a year and we all love to wish our near and dear ones on birthday in a very special way.
Sample Birthday Letter to Girlfriend
Love is a beautiful act of nature. There are so many reasons and ways to express your love for someone special in your life.
Birthday Letter to Boyfriend
LOVE is considered as the touchiest feeling in the world. Every person in the world at any point of time come across with this kind of feeling which is called love.
Birthday Letter to Mom
A birthday letter is considered to be an important role player in wishing someone on his/her birthday. There are many other ways to wish the birthday like phone call, e-greetings etc.
A Letter to My Best Friend on Her Birthday
Best friends are always special and their birthdays are all the more special. We all do something different for them to make their birthday a beautiful memory.
Top Search: