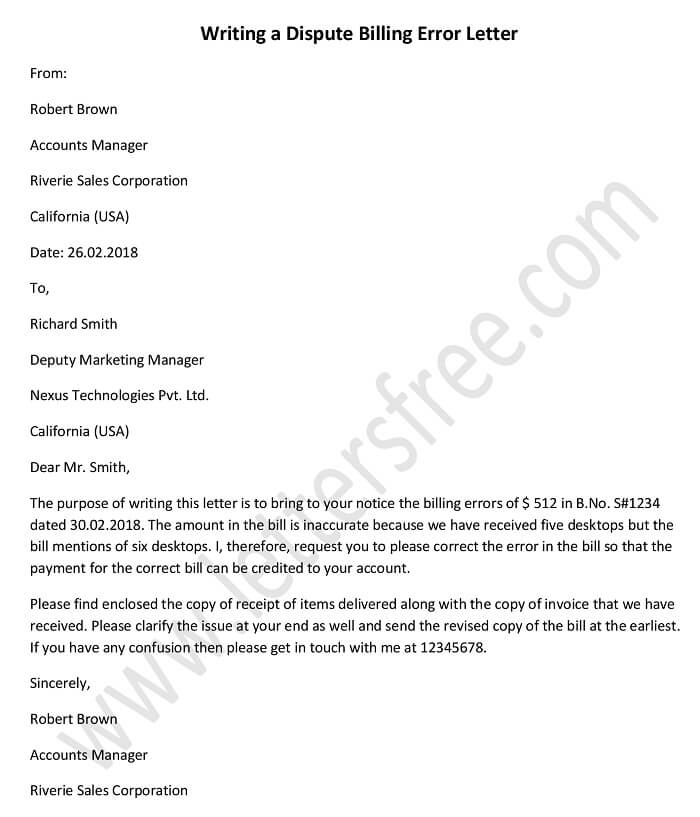 If the invoice that you have received has some errors in it then it is important that you report the dispute in billing error to the company. You can do so by writing a formal letter for disputing billing errors which is a professional way of putting across the issue. Such letters are very much to the point and contain essential details that are very much important.
Given below is a sample letter for disputing billing errors to help you write a perfect customized letter meeting your requirement.
Letter Template for Disputing Errors in Billing
From:
Robert Brown
Accounts Manager
Riverie Sales Corporation
California (USA)
Date: 26.02.2018
To,
Richard Smith
Deputy Marketing Manager
Nexus Technologies Pvt. Ltd.
California (USA)
Dear Mr. Smith,
The purpose of writing this letter is to bring to your notice the billing errors of $ 512 in B.No. S#1234 dated 30.02.2018. The amount in the bill is inaccurate because we have received five desktops but the bill mentions of six desktops. I, therefore, request you to please correct the error in the bill so that the payment for the correct bill can be credited to your account.
Please find enclosed the copy of receipt of items delivered along with the copy of invoice that we have received. Please clarify the issue at your end as well and send the revised copy of the bill at the earliest. If you have any confusion then please get in touch with me at 12345678.
Sincerely,
Robert Brown
Accounts Manager
Riverie Sales Corporation
Given Below are a few dispute letter samples for a clearer Idea.
Credit Card Dispute Letter
Credit is one of the important documents used in the business world.
Chexsystems Dispute Letter
The Dispute is almost a normal occurrence in an organization. A Dispute can be expressed through a letter, especially when it concerns the business market.
Debt Dispute Letter
A dept dispute letter is exchanged between two parties having business with each other.
Dispute Letter to Creditor
Credit letter is issued by the bank or any other financial agencies. It ensures honesty and integrity of the selling party.
Dispute Letter to Credit Bureaus
The Dispute is an inescapable part of life. A creditor writes the dispute letter to credit bureaus as to mention the mistakes of the payment from the credit agency side.