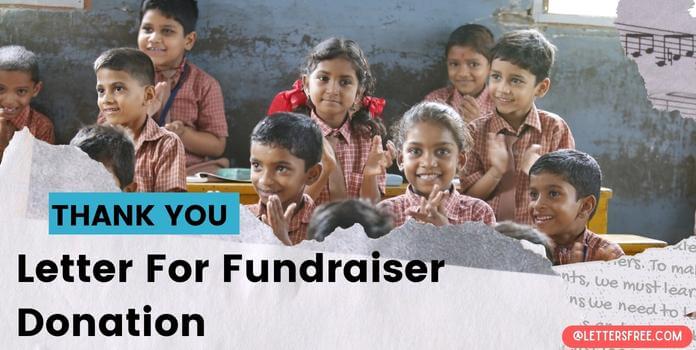 A thank you letter for donation is an effective way of expressing gratitude to all those who have helped you with the donation. If you have planned for a fundraiser and you have received fundraiser donation then it is very important to write a Thank You Letter For Fundraiser Donation. The Thank you letter for donation template is just a way to say thank you in a formal manner.
In this post, we have come up with a donation thank you letter sample. You can use this donation thank you letter Example in order to write your own letter. This fundraiser donation letter is supposed to be simple and short. You can draft a personalized charity fundraiser donation letter.
Thank You Letter for Fundraiser Donation Template
From:
Adam Smith
Principal
Big Dreams School
New York
Date: October 24, 2023
To,
Mr. Anthony Black
Manager
Zenith Technologies
New York
Sub: Thank you letter for fundraiser donation.
Dear Mr. Black,
I, Adam Smith, am writing this letter in order to extend a warm thank you to your organization for the fundraiser donation.
There are many students in our school who have a desire to study but because of the financial constrains are unable to move ahead in their studies. For such students, we came up with a fund raising project in order to support their studies. And we are extremely thankful to you and your organization for coming forward and supporting this cause with a generous donation of $ 5000. With this money, we will be able to help many deserving and desiring students pursue their dream to study.
The total estimated cost of this fund raiser is around $ 20,000 in order to support the studies of all the students in our school and we are hopeful that in the coming months, we are going to be raise that much money. We will make sure that we make the best use of this donation that you have made. We will also be sharing with you the information on the same in the near future.
Thanking you once again.
Sincerely,
Adam Smith
Principal
Big Dreams School
New York