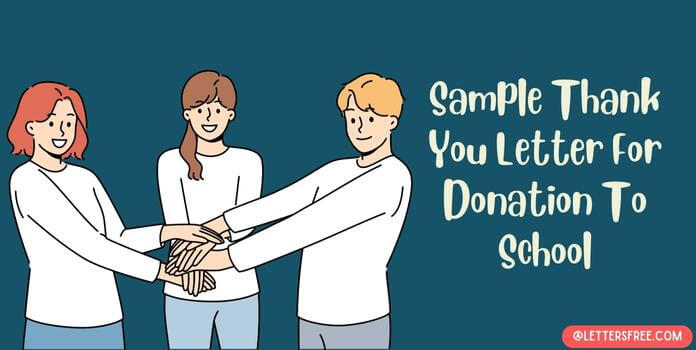 If someone has made any kind of donation towards your school then you must take some time out in order to write a Thank You Letter For Donation to School to that particular individual or that organization. A donation thank you letter is a simple letter which expresses your gratitude in a formal manner. Make sure that you include in your letter the purpose for which this donation is going to be used. A Sample thank you letter for donation to School is a short and sweet letter to write.
If you are wondering how to frame one such letter then here is a Thank you letter for donation template for your reference. You can use this donation thank you letter sample for creating a personalized letter. This donation thank you letter Example makes an easy thing to follow in order to create your own draft.
Format for Sample Thank You Letter for Donation to School
From:
Ana Hathaway
Principal
New Era School
California
Date: September 24, 2023
To,
Mr. Adam Smith
Manager
Zenith Technologies
California
Sub: Thank you letter for donation to school
Dear Mr. Smith,
I, Ana Hathaway, am writing this letter on behalf of New Era School in order to thank you for the generous donation that you have made for our school.
As you are aware that our school provides education to children with special abilities and we keep adding new facilities for these children to learn new things and move ahead in life so that they can have a self-dependent and successful life. Since long, we were wishing to create a set up for developing special skills for these special children but were lacking funds. The estimated cost of such a center was calculated to be approximately $8250. But now with your donation, we are going to move ahead and have this set up ready so that children can learn skills like knitting, painting, pottery and various other similar skills which they can also use for earning a livelihood for themselves once they grow.
I would again like to thank you for this wonderful gesture which will help hundreds of specially abled children to learn many new skills and have a better life for themselves.
Thanking you.
Sincerely,
Ana Hathaway
Principal
New Era School
California