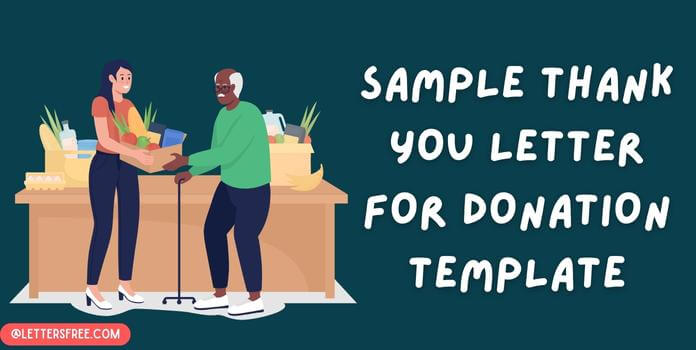 The purpose of Donation Thank You Letter is to formally thank the person or the company which has extended donation for the cause. The donation thank you letter also works as the donation receipt for the donor if they wish to claim the donation they have made for any kind of tax deductions. There are all kinds of thank you letters for donations and you can find sample thank you letter for donation to school, church, hospital, Organization, Fundraiser, Scholarship etc.
In this post, we have come up with a Sample Thank you Letter for Donation. The Donation Thank You Letter Example can be used for framing a customized letter. The Free Donation Thank You Letter Template makes up for a convenient thing to use for your own needs.
Format for Sample Donation Thank You Letter for Donation
From:
Adam Smith
Manager
New Life Cancer Home
New York
Date: October 28, 2023
To,
Mr. Henry Brown
Manager
Zenith Technologies
New York
Sub: Thank you letter for donation.
Dear Mr. Brown,
I, Adam Smith, am writing this thank you letter on behalf of New Life Cancer Home to extend a warm thank you to your organization for coming forward and funding the two day trip for all the patients to Health and Wellness Resort in California.
As we all know that cancer is one disease that not only harms us physically but also break us mentally, emotionally and financially and therefore, our institutions encourages taking our patients out for these kind of retreats that help them recharge their bodies, souls and minds away from the treatment and the negativities of this disease.
We all are thankful for the donation you made for the two day trip to the resort which is certainly going to bring many smiles to these patients. It was truly a wonderful gesture and we truly appreciate the donation of amount $ 4500 that was made by your organization.
Thanking you once again.
Sincerely,
Adam Smith
Manager
New Life Cancer Home
New York