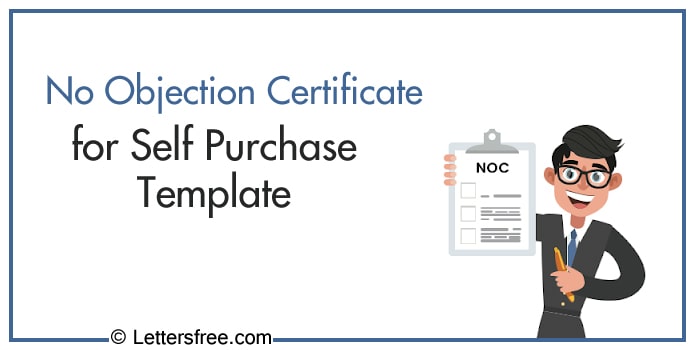 No Objection Certificate or NOC is a legal document that is issued by an individual or organization stating that they do not have any objection to the mentioned details stated in the document. There are different no objection certificate formats available online for different situations. You can use the No object certificate (NOC) format for your situation by following the sample no objection certificate (NOC) template example.
In this post, we bring to you No Objection certificate for Self Purchase Template. You can use this sample NOC format by customizing it as per your subjective needs.
Sample No Objection Certificate (NOC) template example
Memo No. 12345
Name: Divine Hardware Pvt. Ltd.
Address: 54, Andrew Street, London
Sub: Permission For Self Purchase of 30KVA Transformer For New Connection
Reference: Your application no. 1111 dated 10th April, 2021
You are hereby authorized to purchase one 30KVA transformer for the purpose of subject connection or deposit work from any of the approved Albert's manufacturers of transformers with valid registration or prequalifications along with prototype approval of the Chief Engineer according to the amendment no.2 by Albert and all other changes applicable up to date in specification, design and instruction by the Chief Engineer.
You will be responsible for providing the transformer at the connection site and you will also be responsible for providing the original inspection certificate of Chief Engineer along with the invoice.
Executive Engineer,
Smith Brown
Given Below are a few Certificate Sample Format for a clearer Idea.
NOC Letter Format for Students
No Objection Certificate Letter Format for Teacher
No Objection Certificate Format for Part-Time Teaching
No Objection Certificate Format for Change Job
NOC Letter Format for Employee
Employment Certificate Templates
Long Service Award Certificate Template
Application for Death Certificate Format
Application for Birth Certificate
Bank Solvency Certificate Request Letter
Request Certificate Format of Origin from Chairman
Application Format for College Transfer Certificate
Experience Certificate Letter for HR Executive
Complaint Letter to Police Station for Loss of Documents or Certificate
No Objection Certificate for Self Purchase
Application for Provisional Certificate
Project Completion Certificate Template