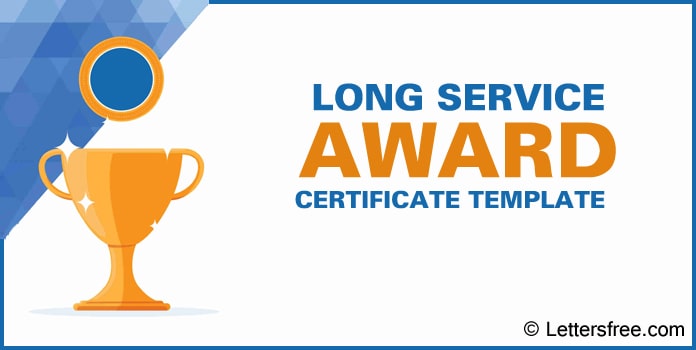 The long service award certificate is issued to employees who have completed their long tenure service in a good way. There are all kinds of long service award certificate formats available online along with free service award certificate for students, employees etc.
You can use the long service award certificate template to create your own certificate. We have included a Long Service Award Certificate sample for your reference.
Long Service Award Certificate Sample Format
From:
Andrew Gibbs
Manager
Wealthy Banks
London
Date: 14 June, 2021
To,
Mr. Adam Smith
54, Richmond Street
London
Sub: Twelve years service award
Dear Mr. Adams,
I would like to congratulate you on the behalf of the management of Wealth Banks for successfully completing Twelve years service with the bank.
For recognizing this important landmark in your career, the management has decided to honor you with a special award at the "Employee Awards Function" that is scheduled for June 28th, 2021. Management is extremely satisfied and happy with your hard work and dedication for all these years.
We are hopeful that you will continue to be a part of the Wealth Bank family and keep contributing to our success for years to come.
With best wishes,
Andrew Gibbs
Manager
Wealthy Banks
London
Given Below are a few Certificate Formats for a clearer Idea.
Certificate of Appreciation for Students Template
Hope Certificate Format
Employment Certificate Templates
Application for Death Certificate
Application for Birth Certificate Format
Letter to Bank for Issuance of Solvency Certificate
Sales Certificate Template for Vehicle
Request Certificate Format of Origin from Chairman
Project Completion Certificate Template
No Objection Certificate for Self Purchase
Application Format for College Transfer Certificate
Experience Certificate Letter for HR Executive
No Objection Certificate for Self Purchase
Application for Provisional Certificate