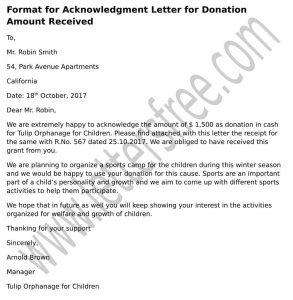 When you have received donation from any source then it is extremely important that you write an acknowledgment letter. It is not just for acknowledging the amount received but it is also a donation thank you letter. It is a warm gesture on payment received. The same kind of letter can also be written for donation of goods. These charitable donation letters work for tax purposes as well.
Given below is a sample donation acknowledgment letter template. Use this sample donation thank you letter to create a customized letter for your needs.
Sample for Acknowledgment Letter for Donation Amount Received
To,
Mr. Robin Smith
54, Park Avenue Apartments
California
Date: 18th October, 2017
Dear Mr. Robin,
We are extremely happy to acknowledge the amount of $ 1,500 as donation in cash for Tulip Orphanage for Children. Please find attached with this letter the receipt for the same with R.No. 567 dated 25.10.2017. We are obliged to have received this grant from you.
We are planning to organize a sports camp for the children during this winter season and we would be happy to use your donation for this cause. Sports are an important part of a child's personality and growth and we aim to come up with different sports activities to help them participate.
We hope that in future as well you will keep showing your interest in the activities organized for welfare and growth of children.
Thanking for your support
Sincerely,
Arnold Brown
Manager
Tulip Orphanage for Children
Given Below are a few acknowledgement letter samples for a clearer Idea.
Letter of Acknowledgement For Cheque Received
When your customer makes the payment in form of a cheque, you are suppose to send a formal acknowledgement of payment received which can be a payment received confirmation letter.
Format for Acknowledgement Letter for Money Receipt
Formally, whenever you receive payment or money from your customer or client, it is important to send acknowledgement receipt of full payment.
Letter of Acknowledgement of Payment Received
In business, once you have received the payment, sending a formal acknowledgement letter to your debtor or business associate is a must.
Acknowledgement Letter Format for Receiving Documents
There are some rules that are to be followed in the professional format.One of the rules is sending acknowledgement letter on receiving anything like documents.