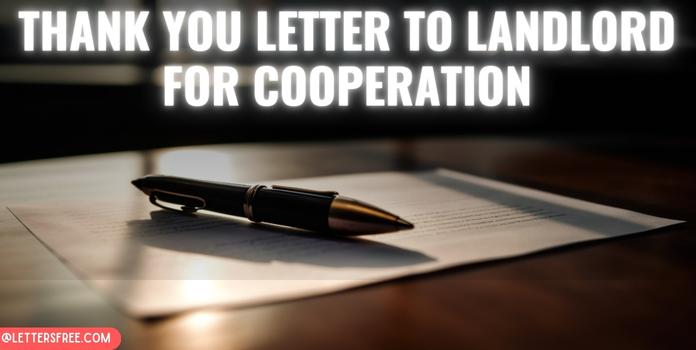 Never miss on a chance of appreciate someone if they have been done anything good to you. If your landlord has been cooperating to you in any way then you must make sure that you write a Thank You Letter to Landlord. It could be a thank you letter to commercial landlord, property manager, building manager, apartment residents for expressing gratitude for their cooperation.
If you wish to write a Thank You Letter to Landlord for Cooperation and you don't know how to begin writing one then you can always follow the Sample Landlord Appreciation Letter shared below. This template can be customized to be used as per your need.
Example for Thank You Letter to Landlord for Cooperation
From:
Richard Grey
54, Henry Hills
New York
Date: Nov 09, 2023
To,
Mr. Anthony Black
12/A, Gibson Villas
New York
Dear Mr. Anthony,
I am writing this letter to thank you for all the cooperation you have extended towards me and my family for all these years. My rental contract is going to end in two weeks time and I am going to be shifting out from this fantastic apartment of yours after living here for five long years.
Since the time me and my family moved us, you have always been very supportive. Not just your apartment was always maintained but your repairing services were always on time and satisfactory. You have always gone out of your way to accommodate our requests. You even supported us by not increasing the rent for a duration of three months when I was out of job and this is something we are never going to forget.
Your apartment turned out to be our abode and we are always going to cherish each and every moment of our stay and the association we had with you. It is because I have bought my own apartment that I am leaving this amazing place or else I would have never thought of leaving it.
I hope to stay in touch with you. Thank you once again for being a very cooperative landlord.
Regards,
Richard Grey