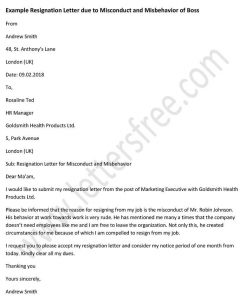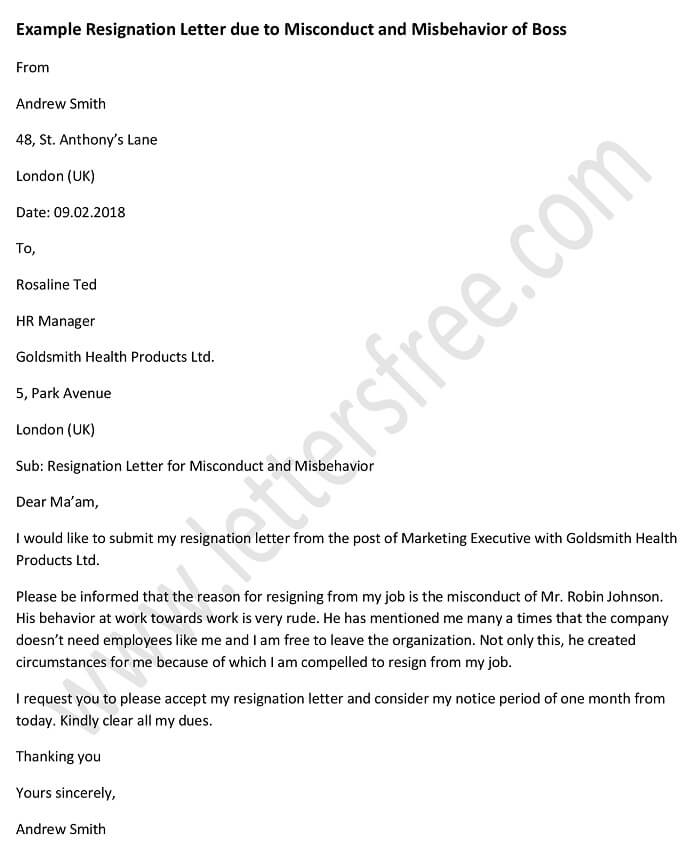 When you work with an organization, you know that there can be different solutions under which a person has to resign. If in case you are forced to resign from your job because of misbehavior of your boss then it is important that you mention it as the reason in your resignation letter. If you don't know how to frame a formal letter for resignation because of misconduct of your manager then we are here to help you.
Given below is a sample format for resignation letter for misbehaving of boss. Use this template to create a personalized draft for your situation.
Sample Resignation Letter Due to Bad Behaviour of Boss
From
Andrew Smith
48, St. Anthony's Lane
London (UK)
Date: 09.02.2018
To,
Rosaline Ted
HR Manager
Goldsmith Health Products Ltd.
5, Park Avenue
London (UK)
Sub: Resignation Letter for Misconduct and Misbehavior
Dear Ma'am,
I would like to submit my resignation letter from the post of Marketing Executive with Goldsmith Health Products Ltd.
Please be informed that the reason for resigning from my job is the misconduct of Mr. Robin Johnson. His behavior at work towards work is very rude. He has mentioned me many a times that the company doesn't need employees like me and I am free to leave the organization. Not only this, he created circumstances for me because of which I am compelled to resign from my job.
I request you to please accept my resignation letter and consider my notice period of one month from today. Kindly clear all my dues.
Thanking you
Yours sincerely,
Andrew Smith
Given Below are a few Resignation Letter samples for a clearer Idea.
Resignation Letter due to Pregnancy
Resignation Letter due to Child Care
Resignation Acknowledgment Letter
A resignation acknowledgement letter deals with the subject like accepting one's resignation from his/her work.
Resignation Letter 2 Week Notice
A resignation letter 2 week notice period is a very much official letter and it is written as per the terms of a company on your resignation.
Resignation Thank You Letter
Resignation thank you letter is written by an employee in response of accepting is resignation application.
Email Resignation Letter
An email resignation letter deals with the same format as a traditional resignation letter and here
Job Resignation Letter
Job resignation letter is a formal notification written by an employee who no longer wants to continue working in his current company.