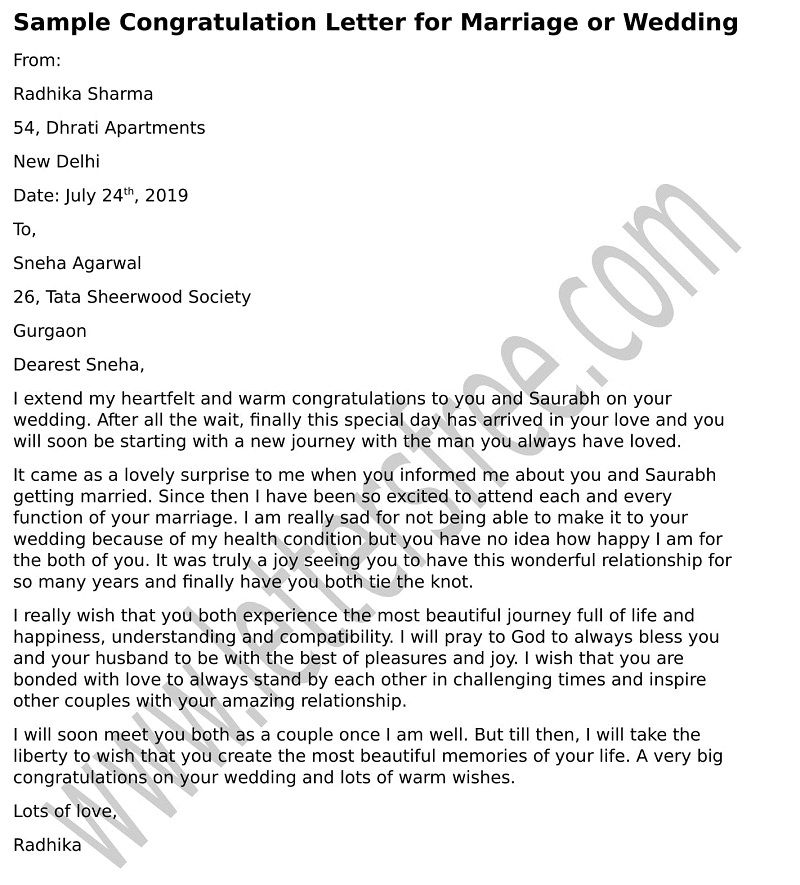 Whether it is your friend, relative, colleague or business associate who has recently got married, you must send a Congratulation Wedding Letter to extend your warm wishes for a happy married life. Beautifully drafted Congratulation Letter for Marriage is a sweet gesture and is always appreciated and remembered. Such blessing letters for marriage is a way of wishing a beautiful journey. Make sure you even send a warm letter to your friend congratulating him on his marriage.
Shared below is a sample congratulation letter format. With this unique Congratulations Letter for Marriage, you can wish someone special in a special way.
Congratulation Letter for Marriage Example
From:
Radhika Sharma
54, Dhrati Apartments
New Delhi
Date: July 24th, 2019
To,
Sneha Agarwal
26, Tata Sheerwood Society
Gurgaon
Dearest Sneha,
I extend my heartfelt and warm congratulations to you and Saurabh on your wedding. After all the wait, finally this special day has arrived in your love and you will soon be starting with a new journey with the man you always have loved.
It came as a lovely surprise to me when you informed me about you and Saurabh getting married. Since then I have been so excited to attend each and every function of your marriage. I am really sad for not being able to make it to your wedding because of my health condition but you have no idea how happy I am for the both of you. It was truly a joy seeing you to have this wonderful relationship for so many years and finally have you both tie the knot.
I really wish that you both experience the most beautiful journey full of life and happiness, understanding and compatibility. I will pray to God to always bless you and your husband to be with the best of pleasures and joy. I wish that you are bonded with love to always stand by each other in challenging times and inspire other couples with your amazing relationship.
I will soon meet you both as a couple once I am well. But till then, I will take the liberty to wish that you create the most beautiful memories of your life. A very big congratulations on your wedding and lots of warm wishes.
Lots of love,
Radhika
You May Like Also Congratulation Letters
Congratulation Letter for Company Anniversary
Congratulation Letter of Engagement Ceremony
New Baby Congratulations Letter
Congratulation Letter for Friend Marriage
Congratulations Letter for Winning a Competition
Scholarship Congratulation Letter
Retirement Congratulation Letter
Congratulation Letter for Award
Congratulation Letter on Promotion
Congratulation Letter for Graduation
New Job Congratulations Letter
New Baby Congratulation Letter
Congratulations Letter on Achievement