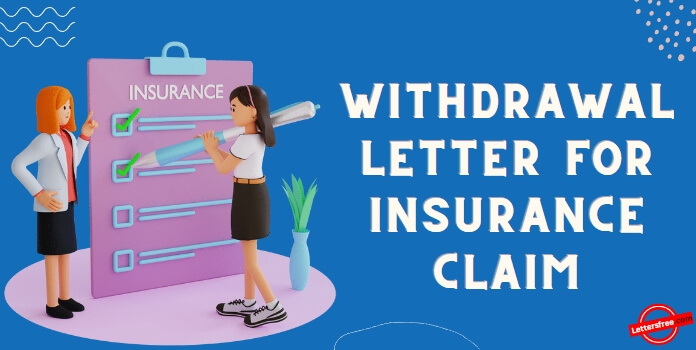 If you have submitted the insurance claim with your insurance company and now you wish to withdraw your claim for whatever reasons then you must do that in writing by sending a Withdrawal Letter for Insurance Claim to the insurance company.
To help you do that, we bring to you a Insurance Claim Withdrawal Letter Sample. You can use this Sample Insurance claim Withdrawal letter which you can customize as per your need and create your own letter with ease and comfort.
Format for Withdrawal Letter for Insurance Claim
From:
Anthony Smith
88, Richmond Town
New York
Date: June 16th, 2023
To,
The Insurance Officer
New Era Insurance Company
New York
Sub: Regarding withdrawal of insurance claim
Dear Sir/ Madam,
The purpose of writing this letter is to withdraw the claim of $ 5250 from New Era Insurance Company for the accident that I had witnessed on January 20th, 2023.
It is really disappointing to experience that a reputed company like yours has not responded to my insurance claim that was submitted in the month of January 2023. For over three months I have patiently waited for the settlement of the amount mentioned above but despite extending all sort of cooperation from my end, there has been no outcome. The company has failed to give me a satisfactory response on my claim.
I had met with an accident which not only caused a serious damage to my car but I also got physically injured in the accident and with the kind of behavior I have witnessed from your executives, it has only added to my pain and suffering. Whenever I have made any attempt to contact your company for my insurance claim, I was asked to submit more documents and information. I must say that I submitted all the documents and details that I was asked to submit. I have always been told that the things are in progress but now my patience has given up and after waiting for a long period of three months I have lost all the hopes in your insurance company.
Therefore, I am compelled to write this letter to withdraw my insurance claim with you because of your unprofessional behavior. You are no longer required to make any settlements for my claim. I think it is time that I should look for a better and professional insurance company.
Regards,
Andrew Smith