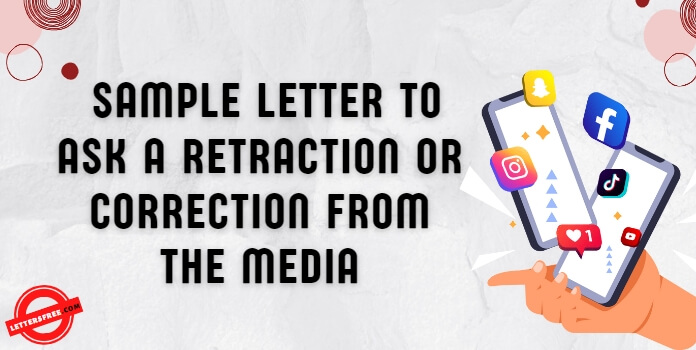 If there is any mistake that you have been able to spot in a newspaper or magazine or any other media then you must always write a letter to ask a correction from that specific media. Writing a retraction letter is quite simple and must include the mention of the mistakes that are required to be corrected. Make sure that you don't forget to keep your tone formal and positive.
We have come up with a format for letter to ask a retraction or correction from the media. This template can be easily used for creating a personalized letter.
Format for Letter to Ask a Retraction or Correction From Media
From:
Ana Smith
45, Richard Apartments
New York
Date: May 12th, 2023
To,
The Editor
New York Magazine
New York
Respected Sir/ Madam,
I have grown up reading your magazine and my mother and myself have been your loyal readers and subscribers for years. It is one magazine which covers articles from different aspects ranging from politics to fashion, health to fitness, beauty to business; where women are making their names shine.
I came across one of your articles in the May 2023 issue which talked about the famous yoga guru, Ms. Riya Mathew and there were lots of details that were shared about her venture in this industry. She is a dear friend of mine and reading about her in such a reputed magazine was a pure delight but I would like to express my concern over the various errors that were committed in the article. This happened because may be your correspondents did not check about these details with Ms. Riya.
New York Magazine has been there for years and it has a strong reputation in the market. With such a huge subscriber base, you cannot afford to make such errors. I have attached the article with the corrections. I would also like to request you to please check it with Ms. Riya before posting this information again.
Will be looking forward to read the corrected article.
Regards,
Ana Smith