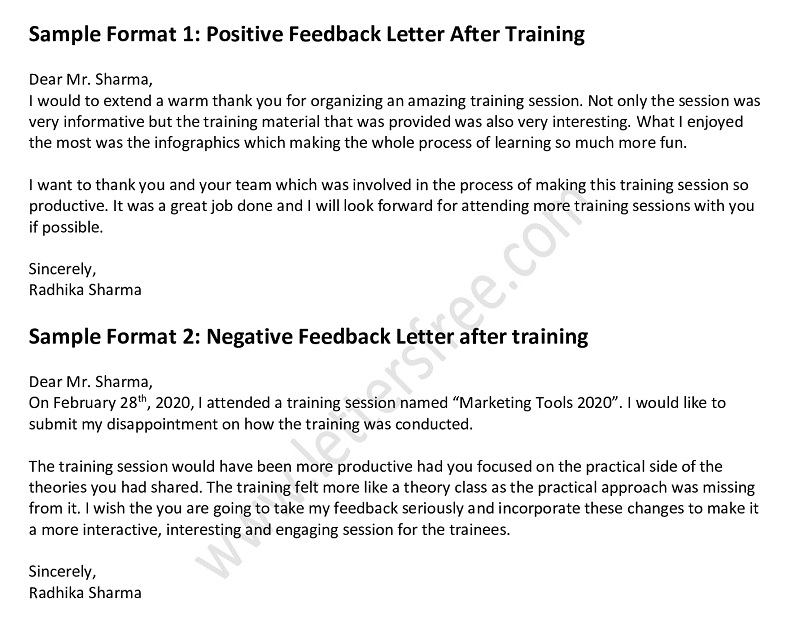 Feedbacks are very important as they indicate the positives and negatives of a performance. If you have attended a training session then submission a feedback letter after training is certainly a wonderful idea. You can submit positive feedback letter or negative feedback letter depending upon the kind of experience you had. The feedback letter after training session is a formal way of providing an insight on the experience. You are free to share your views using feedback letter after training session.
Shared below is the feedback letter for training. Use the sample feedback letter for positive and negative feedbacks. Follow the sample feedback letter after training shared below to create your own.
Sample Format 1: Positive Feedback Letter After Training
Dear Mr. Sharma,
I would to extend a warm thank you for organizing an amazing training session. Not only the session was very informative but the training material that was provided was also very interesting. What I enjoyed the most was the infographics which making the whole process of learning so much more fun.
I want to thank you and your team which was involved in the process of making this training session so productive. It was a great job done and I will look forward for attending more training sessions with you if possible.
Sincerely,
Radhika Sharma
Sample Format 2: Negative Feedback Letter after training
Dear Mr. Sharma,
On February 28th, 2020, I attended a training session named "Marketing Tools 2020". I would like to submit my disappointment on how the training was conducted.
The training session would have been more productive had you focused on the practical side of the theories you had shared. The training felt more like a theory class as the practical approach was missing from it. I wish the you are going to take my feedback seriously and incorporate these changes to make it a more interactive, interesting and engaging session for the trainees.
Sincerely,
Radhika Sharma
Given Below are a few Feedback Letter Formats for a clearer Idea.
Feedback Letter from Guest to Hotel Manager
Feedback Letter for Seminar
Interview Feedback Request Letter
Performance Feedback Request Email
Feedback Request Letter After Interview
360 Degree Feedback Request Letter
Customer Feedback Request Letter
Performance Feedback Request Letter
Feedback Request Email to Manager
Interview Feedback Request Email
Feedback Request Email to Client