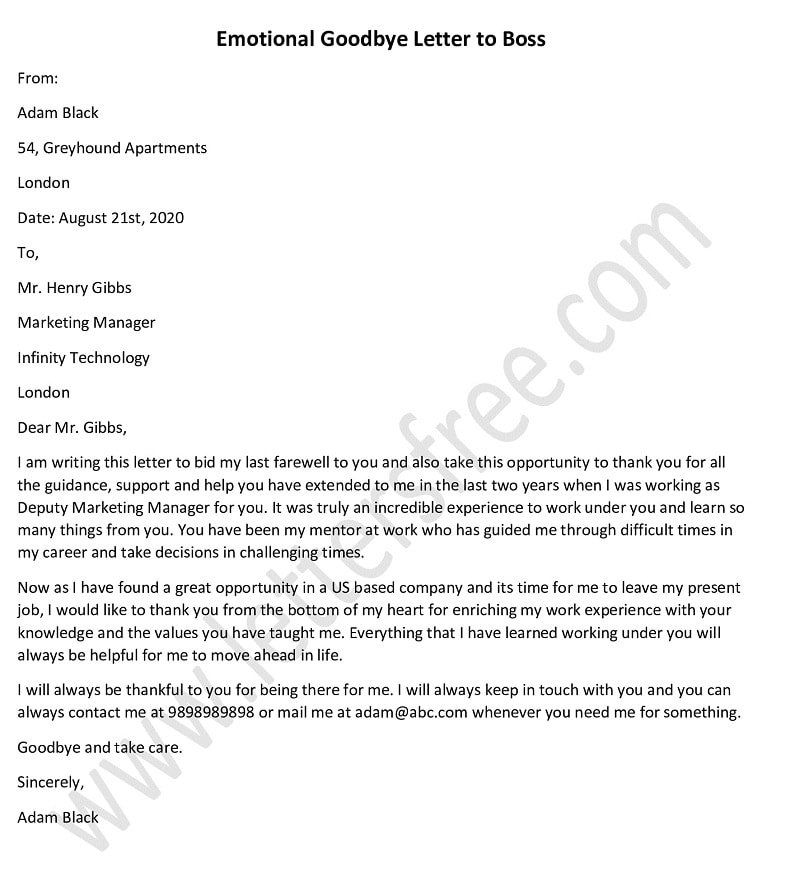 Write an emotional goodbye letter to boss who has been a mentor to you at your work. A heartfelt goodbye letter to boss is an opportunity to express him gratitude for all the support he has extended you with. You can use a sample goodbye letter to frame your own touching farewell letter to boss.
In this post, we have come up with a format, example or template for Emotional goodbye letter to boss.
Heartfelt Goodbye Letter to Boss
From:
Adam Black
54, Greyhound Apartments
London
Date: August 21st, 2020
To,
Mr. Henry Gibbs
Marketing Manager
Infinity Technology
London
Dear Mr. Gibbs,
I am writing this letter to bid my last farewell to you and also take this opportunity to thank you for all the guidance, support and help you have extended to me in the last two years when I was working as Deputy Marketing Manager for you. It was truly an incredible experience to work under you and learn so many things from you. You have been my mentor at work who has guided me through difficult times in my career and take decisions in challenging times.
Now as I have found a great opportunity in a US based company and its time for me to leave my present job, I would like to thank you from the bottom of my heart for enriching my work experience with your knowledge and the values you have taught me. Everything that I have learned working under you will always be helpful for me to move ahead in life.
I will always be thankful to you for being there for me. I will always keep in touch with you and you can always contact me at 9898989898 or mail me at [email protected] whenever you need me for something.
Goodbye and take care.
Sincerely,
Adam Black
Given Below are a few goodbye letter samples for a clearer Idea.
Goodbye Letters to Colleagues
Saying Goodbye Letter to Someone you love
Emotional Goodbye Letter to Teacher
Goodbye Letter after Resignation
Goodbye Farewell Letter
Funny Goodbye Letter
Goodbye Love Letter
Goodbye Letter to Parents
Goodbye Letter to Clients
Goodbye Letter to Coworkers
Goodbye Letter to Employees
Goodbye Letter to Girlfriend
Goodbye Letter to a Friend
Farewell Party Thank you Letter
Goodbye Letter to Boyfriend
Farewell Letter to Boss